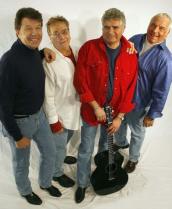 Now in its 21st year
Brooklyn, N.Y.
- On Sunday, May 20 from noon to 6 p.m., the Sheepshead Bay Waterfront (Emmons Ave from E 27 to Ocean Ave, Sheepshead Bay) will be the site of
Bayfest 2012
, South Brooklyn's largest waterfront festival. All are welcome to this free event featuring music from 25 bands, including Jay & The Americans (who got their start in Brooklyn) plus twenty young, up-and-coming groups on a main stage, mobile stage, and 10 piers (8 blocks) along the water on (hopefully) a bright, sunny day!
Entertainment Lineup
For the Baby Boomers:
Mobile Stage (Pier 8) 3:30PM: JAY AND THE AMERICANS -- This group started on the street corners of Brooklyn singing doo-wop, and went on to sell millions of records with songs like "This Magic Moment," "Cara Mia," "Come A Little Bit Closer," and many others
For the younger set:
Main Stage (Emmons Avenue & East 27th Street) Noon to 6pm: United States Merchant Marine Academy, SonnyBoy, Sound Drive, The Shots, Stout, Jenna Rose, Laura Lee Summerhill of TV hit "Smash," Aviator Gymnastics Team, Dimensions in Dance
Piers 1-10 (8 blocks along Emmons Ave: Demetra, Zak Smith Band, Sons Of Jove, Toxin, Madison Rising, Aways Away, Sean Faust, Jeff Regan, Annika Vitolo, Veronica Kole, NeptuneJam, Provocator, 80-HD, Well Played, SpinBox, Bolly Dhamaal Dance, Ken Ruan, and surprise additions.
Additional attractions:
Dance troupes
Gymnastics displays
United States Merchant Marine Academy ("Kings Point") event kick-off that includes a color guard, drill team demo, and rampart trumpet performance.
Brooklyn Nets Mobile basketball unit with DJ and special guests
FDNY smokehouse & FDNY fireboat water display
Brooklyn Children's Museum, the New York Aquarium, and the Brooklyn Public Library
Face painting, Arts & crafts, Amusements
Raffles: Brooklyn Brewery, Cold Stone Creamery, GNC, Honest Tea, many more PLUS a 50/50
Food, drink & performer merchandise sales on docked cruise ships
Sponsor tables with giveaways
Much more!
Event Details
When
: Sunday, May 20 from noon to 6pm
Where
: Emmons Ave. from E. 27th St. to Ocean Avenue (Piers 1-10), Sheepshead Bay, Brooklyn, NY
Cost
: FREE!
Website
:
http://www.bigbayfest.org/
Contact
:
bigbayfest@gmail.com
or call 718-646-9206.
Photo
: Jay and the Americans
Photos, bios, and event icon may be downloaded from this link
:
https://www.dropbox.com/sh/eckee9ucmngnst7/pAA9IeL33g
###