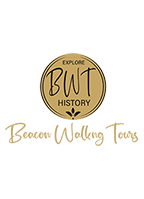 Beacon, N.Y. – Beacon Walking Tours is now open for bookings! These tours are owned and operated by multi-generation Beacon residents Robin Lucas and Emily Murnane, who have both been involved in sharing the history of Beacon for over ten years. Robin and Emily are the authors and directors of The Ghost In The Mist Walking tours, created for the benefit of the Beacon Historical Society for three years, which earned a nomination for the Dutchess County Tourism award in 2019. Volunteering with local organizations and offering tours that bring Beacon's history to life are Robin and Emily's lifelong passions. 
The debut Beacon Walking Tour will feature the Village of Matteawan and delve into the story of how two prominent New York Mill families–the Bretts and the Schencks–joined together to create today's bustling tourist destination here in the Hudson valley. It was through the hard work of these families combined with the power of the Fishkill Creek and countless inventions created here in the factories that helped the former mill town of Beacon grow and expand into one of the most beautifully landscaped places in America. The Village of Matteawan tour covers the lives of eccentric historical figures who are ingrained in Beacon's history while walking through over 200 years of stories about life in the factories. 
Ghost tours will be offered in the fall of 2023 and the Village of Fishkill Landing tours will also be coming soon. 
For more information about Beacon Walking Tours or to schedule a tour, visit BeaconWalkingTours.com.
###
Contact:
(845) 440-5300