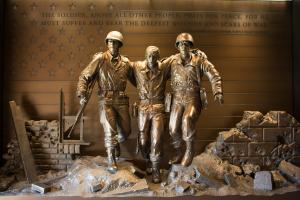 Opt for a change of scenery this winter with fun, family-friendly indoor attractions
Orange County, N.Y. (February 18, 2021) – The winter landscapes found throughout the scenic Hudson Valley are unparalleled, but if a day on the slopes or trek through the snow isn't quite your style, don't fret! Orange County, N.Y. is chock full of hidden gems that offer plenty of fun for all ages with indoor attractions. From museums to shops, there's plenty of excitement to be had in Orange County this winter season.
"The history of our region is so rich, and it's easy to take for granted the world-class shopping, historic sites, and acclaimed craft beverage scenes we have right in our own backyards," said Orange County Tourism Director Amanda Dana. "This winter, I encourage you to discover all there is to do here in Orange County. Many of our local indoor venues offer safe, socially-distant attractions to pique your interest. You'll be surprised how much there is to choose from!"
Below are some popular indoor attractions in Orange County, N.Y. Before visiting any of the locations, please contact the venue directly to confirm that they are open and practice safe social-distancing.
Sugar Loaf Arts & Craft Village, Sugar Loaf: A community of creative craftsmen and artists, Sugar Loaf is home to more than 60 artist studios, craft shops, galleries, and restaurants. Open year-round, visitors can escape the chilly winter weather by exploring the hand-made items and unique offerings at these shops, all located in the hamlet's original buildings and barns dating back to the 1700s and 1800s. The village requires proper face coverings and social distancing to all who visit its shops. www.sugarloafnewyork.com
Woodbury Common Premium Outlets, 498 Red Apple Court, Central Valley: This world-class shopping destination boasts more than 250 highly sought-after retailers with savings up to 65 percent. Find brands such as Tory Burch, Celine, Nike, Bottega Veneta, Michael Kors, Burberry, Coach, The North Face, and more, offering the latest trends in fashion, accessories, athleisure, and footwear. The shopping destination has received a 2021 International WELL Health-Safety Rating from the International Well Building Institute. Social distancing and proper face coverings are required of all patrons. premiumoutlets.com/outlet/woodbury-common
Motorcyclepedia, 250 Lake Street, Newburgh: Motorcyclepedia is the largest educational motorcycle museum in the world. Founded by Ted Doering and his father, the family's collection features more than 600 motorcycles, including the world's most complete Indian Timeline. Spanning 85,000 square feet, the museum includes motorcycles from 1897 to the present, photographs, posters, memorabilia, machinery and more. In accordance with New York State guidelines, the museum galleries are operating at 25 percent capacity. Appropriate face coverings and social distancing is required. motorcyclepediamuseum.org
National Purple Heart Hall of Honor, 374 Temple Hill Road, New Windsor: The National Purple Heart Hall of Honor offers visitors an incredible journey through military history as well as reminders of human sacrifice and the cost of freedom. Dedicated to the stories of Purple Heart recipients, the venue features film, interviews, exhibits, and the Roll of Honor, an electronic database of recipients from the Civil War through Afghanistan. Social distancing is required. thepurpleheart.com
Washington's Headquarters State Historic Site, 84 Liberty Street, Newburgh: Visit the nation's first publicly owned historic site and tour the rooms where history was made. The property served as General George Washington's headquarters for a period during the Revolutionary War. It was here that he rejected the idea of an American monarchy; ended the Newburgh conspiracy, preventing potential military control of the government; created the Badge of Military Merit, forerunner of the Purple Heart; and circulated an influential letter to state governors outlining the key principles he felt necessary for the new republic. Open Friday-Saturday, 11:00 a.m. - 3:00 p.m. by reservation only. Proper face coverings and social distancing are required. parks.ny.gov/historic-sites/17
As the world reopens, Orange County, N.Y., invites residents and visitors to escape, enjoy and explore its wide-open spaces and safe indoor attractions. For a full list of attractions, lodging and dining options available at this time, please visit orangetourism.org/winter Additionally, a fun, free, 56-page travel guide is available for digital download at OrangeTourism.org/travel-guide.
About Orange County Tourism and Film
Orange County Tourism, based in Goshen, N.Y., is the county's tourism headquarters and a participant in the I LOVE NY program. A comprehensive listing of area attractions, lodging and events can be found at OrangeTourism.org. Follow Orange County Tourism on Facebook and Instagram for the latest news on local happenings.
###
Photo features: National Purple Heart Hall of Honor, located at 374 Temple Hill Road in New Windsor, N.Y.
For more information, contact:
J.P. McGuirk
Focus Media, Inc.
845-576-2212