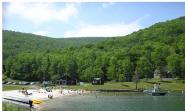 Highmount, N.Y. -
The Belleayre Beach is open full time for the summer season! Hours will remain from 10am to 6pm Midweek, non holiday and from 10am to 7pm weekends and holidays! The Belleayre Beach at Pine Hill Lake is a place for the whole family.  The Belleayre Beach Season Pass is 
currently on sale
 for $65. This pass is valid anytime the
Belleayre Beach is open
 from May 25th through September 2nd. Order your pass today and enjoy the summer at the beach with the entire family!
(The Empire passport will not longer be sold or accepted at the Belleayre Beach)
The Beach offers swimming, picnicking, horseshoe pits, volleyball, basketball, row boat, pedal boat and kayak rentals, fishing, hiking, biking and great relaxation! Boat rentals are available on a first come first serve basis. Kayaks, Pedal Boats and Row Boats are available for rent for $8 per hour (Row boats may be rented for four hours for just $20.00). Pavilions are also available for rent for parties, bbq's, weddings and more. Rentals are prereserved at just $60 per pavilion. To make reservations please stop by the lifeguard office or call 845.254.5600 xt 2473 or 
order now online
!
2013 Belleayre Festival
Belleayre Mountain would like to invite you to the first SkiTember Fest. The Kick off will be held at the Overlook Lodge of Belleayre Mountain on Sept. 28, 2013 from 10 a.m. to 6 p.m. Smokey Bear - live music by Country Express, the Lovetaps & the Jeremy Baum Trio - performances by the Open Eye Theatre -a fall foliage sky ride - guided hikes - a rock wall - crafters- a winter apparrel sale - paddling lessons and demos by the Catskill Mountain Club w/ kayaks donated by Kenco - Season pass sales - kids free crafts by the Catskill Mountain Artisans Guild and much more! Vendor spaces are 
still available
! Don't forget to travel down the the 
10th Annual Califlower Festival
 in Margaretville (10 miles West of Belleayre) from 10am to 4pm on the 28th. The Califlower Festival celebrates farming, cooking and culture in the past, present and future of the Catskill Mountains. Make it a fun filled family day and visit both festivals!  Over Columbus Day Weekend, Oct. 12-13, Belleayre Mountain will be open with festivities for both adults and children a like!   The skyride will be open from 11:00 a.m. to 5:00 p.m. for people to enjoy the spectacular colors of the foliage season, take a walk along the summit, have a picnic lunch, or just enjoy the peace and quiet.  Join us out on the deck for a BBQ and music. Guided hikes will take place courtesy of the Catskill Mountain Club and their annual Lark in the Park, fishing, apparrel sales and more activities are currently being planned. As more activities become availible we will post them on our website and in future E-Newsetters. Both on Sept. 28 & Oct. 12-13, season passes and Snowsports programming will be on sale featuring the 
Ski3 Pass
, Belleayre only passes and children's and adult programming.  The Ski3 Pass will give skiers and riders access to all three Olympic Regional Development Authority (ORDA) operated mountains - Belleayre, Gore and Whiteface. The Ski3 Pass will give skiers and riders access to an unprecedented 230 trails, 800 acres of skiable terrain and over 7,300 feet of vertical.  For our Belleayre skiers and riders, who don't plan on heading north next winter, Belleayre is offering our usual array of Belleayre only passes.  The ever popular season long programming for children and adults including Alpine Development, Race program, Adult Weekend Workshop and Kidscamp multi packs will also be on sale.
Don't forget to visit our partner sites:
Central Cats Giveaways
Town of Shandaken 
July Kickoff for the Belleayre Music Festival
The Belleayre Conservatory will soon kick off with their concert series beginning on July 6th, 2013.The Conservatory is the not-for-profit organization that annually presents the renowned Belleayre Music Festival, now entering its 22nd season.  The Belleayre Music Festival's season includes Dwight Yoakam on July 6, the Manhattan Transfer on July 13 and the Doobie Brothers on July 20. For a complete list of shows, please visit 
belleayremusic.org
.  All shows begin at 8 p.m. Tickets for all concerts are on sale via Ticketmaster. For additional information, please call 800 942-6904, ext. 1406, visit:
belleayremusic.org
or e-mail: 
https://mail.google.com/mail/?view=cm&fs=1&tf=1&to=belleayremusicfestival@gmail.com
.
The Belleayre Skyride will run midweek for Groups only, from June through August 30, 2013.
Take the Sky Ride to the summit of Belleayre Mountain for breathtaking views of the Catskill Forest Preserve. Once you've reached the top, you can take a walk along the summit, have a picnic lunch, or just enjoy the peace and quiet. When you're ready, you can either hike, or take the lift back down. Either way, bring your camera. You are sure to get some beautiful shots of the mountains and the wildlife. Reservations are required for groups of 50 or more. Please contact Alex Sines at 845.254.5600 xt 2473 or email to 
https://mail.google.com/mail/?view=cm&fs=1&tf=1&to=asjarret@belleayre.com
 for more information.
###