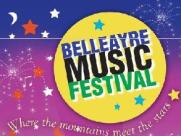 Also: Last Days of Super Early Bird Pricing for Season Passes
Highmount, N.Y.
- The Belleayre Jazz Club kicks off this weekend with two stellar shows guaranteed to please jazz aficionados. On Friday July 30 at 8pm, tenor saxophonist Javon Jackson leads his renowned quartet with special guest the legendary Jimmy Cobb on drums. Javon Jackson rose to international prominence as a member of Art Blakey and the Jazz Messengers and has since fashioned his own signature sound. In addition to Blakey, Javon has contributed his smooth jazz style on tours and records with luminaries like Elvin Jones, Freddie Hubbard, Betty Carter, Cedar Walton, Ron Carter, Donald Byrd and Curtis Fuller. Javon has appeared on over 125 recordings and has developed a formidable career as a leader. The innovative drummer legendary Jimmy Cobb, known for his work with Miles Davis on the album "Kind of Blue", will join Javon Jackson in launching the 2010 Belleayre Mountain Jazz Club Series. Tickets are $25 for general admission. Saturday, July 31 at 8pm jazz violinist Regina Carter will grace the stage of the Belleayre Jazz Club. Acclaimed as one of the most transcendent voices of contemporary violin, Regina Carter brings her tenacious force to Belleayre and will showcase her new release, "Reverse Thread". This recording is her latest contribution to the world of contemporary jazz, offering an uplifting and stirring perspective on music from home and around the world. Known for her original compositions and collaborations with many jazz greats, Regina was the first jazz player allowed to play and record with Nicolo Paganini's treasured Guarneri del Gesu violin. Tickets are $25 for general admission.
Belleayre Mountain to Host All Terrain Mountain Bike Race on Sunday, August 8
Overlook Bikes from Woodstock, NY will sponsor and produce an All Terrain Mountain Bike Series hosted at Belleayre Mountain on Sunday, August 8. This Cross Country Mountain Bike Race which is part of the NYS Mountain Bike Series will be the first held at Belleayre Mountain in many years.  The Race will feature an interesting and challenging five mile undulating course of fire roads and single track between the Discovery and Overlook Lodges. Pro riders will have to complete four laps, expert riders three laps, sport riders two laps, and beginner riders one lap. The first 75 people to pre-register for the race receive a free t-shirt. Registration can be done online at
http://www.bikereg.com/
and more info about the race series can be found at
http://www.nysmtbseries.com/
. If people would like to volunteer to help please contact Billy Denter at 845-679-2122 or by email at
overlookmountainbikers@gmail.com
. 
Last Few Days to Purchase a Belleayre Season Pass at Super Early Bird Prices
One way to beat the summer heat is by thinking about snow. For only a few more days Belleayre Mountain will be selling season passes for the 2010-2011 skiing and riding season at the Super Early Bird prices. While season pass prices are going to remain the same price as last year and the usual early bird prices of $50 off are in effect through 11/30/2010, people who buy their Belleayre season passes this summer will reap additional rewards and added value perks. Early bird adult season passes are going to be selling for $676 but people who buy in July will get an additional 20% off the price. That's only $540 dollars for a full adult pass with no blackout dates. Junior passes are only $172, senior passes are $468, and college students who produce proof of enrollment with a letter from the school's bursar's office will only be $203 for a full season pass.  A midweek pass is only $220 in July and family packs are $511 per adult and only $132 per junior pass.  The Super Early Bird Special Pricing expires July 31. An added perk for people who purchase an adult or senior pass in August is a season long weekend workshop every Saturday beginning on January 1 with a $300 value. Midweek passholders will receive the Wednesday Workshop (also a $300 value) that lasts for the entire season starting on January 5.  People who choose to wait and buy their season pass in September also get a great deal. The September Belleayre Season Pass Deal includes five discounted guest passes that can be used at any time during the season. Bring your friends to introduce them to the Belleayre experience as a guest for only $34 per person which is an additional $100 value. Bring a friend and save even more. Current season pass holders who bring a new friend who buys a full adult season pass receive additional $50 off their price. Bring a senior season pass holder and receive $25 off or recruit a new family to the Belleayre experience and receive $100 off. Think snow and think savings. Summer is in full swing in the Catskill Mountains and there's no better place to relax and chill out with a family picnic, swimming, boating, fishing, playing volleyball, horseshoes or beach games at Belleayre's well manicured day use area. Belleayre also offers Red Cross Certified Swim Lessons for all ages. The cost to enter the day use area is $8 per carload and $20 per bus; weekend hours are from 10am- 7:30pm and weekday hours are from 10am - 6pm. Belleayre Mountain is a year-round outdoor recreation area in the Catskill Mountains operated by the New York State Department of Environmental Conservation. The Belleayre Music Festival is a non-profit 501c3 organization with a mission to bring arts and culture to the Catskill Region that operates in a partnership with Belleayre Mountain. 
###
Contact:
Jonathan King Belleayre Mountain Marketing Department Phone: 845-254-6114 Email:
jdking@gw.dec.state.ny.us
Web:
http://www.belleayre.com/
Belleayre Phone: 800-942-6904