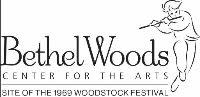 Season kicks off with performance by Chicago on July 20th
Bethel, N.Y. (June 17, 2021) – After 643 days without music on the Pavilion stage, Bethel Woods Center for the Arts, the nonprofit cultural center located at the site of the 1969 Woodstock festival, today announced that its 2021 Pavilion concert season will operate at full capacity with no social distancing required. This follows the rescindment of most coronavirus restrictions state-wide as New York hits a 70% vaccination rate. 
 
Guests will no longer be required to present proof of vaccination when purchasing tickets or arriving at the concert venue. Masks will be required for those who are unvaccinated and optional for vaccinated patrons, per CDC recommendations and State regulations. The Center, a nonprofit cultural center located at the historic site of the 1969 Woodstock Festival, will open on July 20th with a performance by Chicago. The lineup includes shows by Dead & Company, James Taylor & Jackson Browne, and Chris Stapleton.
 
"One long year ago, I made a video to let you know we would be cancelling the 2020 Pavilion season due to the COVID-19 pandemic. Today, I'm thrilled to announce that Bethel Woods will be reopening. We've weathered this storm and now it is time to come together again," said Eric Frances, CEO, Bethel Woods Center for the Arts.
 
For a full list of events, programs, and to learn more, visit: www. BethelWoodsCenter.org
###
About Bethel Woods Center for the Arts
Bethel Woods Center for the Arts inspires, educates, and empowers individuals through the arts and humanities by presenting a diverse selection of culturally-rich performances, popular artists, and community and educational programming.  Located 90 miles from New York City at the site of the 1969 Woodstock festival in Bethel, NY, the lush 800-acre campus includes a Pavilion Stage amphitheater with seating for 15,000, an intimate 440-seat indoor Event Gallery, the award-winning Museum at Bethel Woods, and a Conservatory for arts education programming.
 
Through the in-depth study and exhibition of the social, political, and cultural events of the 1960s, as well as the preservation of the historic site of the Woodstock Music and Art Fair, Bethel Woods educates individuals about the issues and lessons of the decade while inspiring a new generation to contribute positively to the world around them. The not-for-profit organization relies on the generous support of individuals, corporations, and foundations to develop and sustain programs that improve the quality of life in the region and beyond.
 
For more information please visit www.BethelWoodsCenter.org. 
Media Contact:
Bridget Smith
v.845.583.2179
Photos & Interviews may be available upon request
bsmith@bethelwoodscenter.org