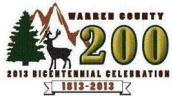 Warren County, N.Y.
- At 2 p.m. on March 12, 2013 churches from all over Warren County will be ringing their church bells in remembrance of the incorporation of Warren County, New York on that date in 1813. The ringing of the bells is a significant undertaking since it is recorded in history that local churches rang the bells to alert the community of many events and emergencies that took place before mass communication became the norm. The Bicentennial Committee thanks the churches that will take part in the event:
1881 Union Church (Horicon Hist Soc), Adirondack
Horicon Baptist Church, Brant Lake
Chestertown Methodist Church, Brant Lake
First Presbyterian Church of Glens Falls, Glens Falls
St. Mary's Church, Glens Falls
Hague Baptist Church, Hague
Lakeside Regional Church, Hague
St. Isaac Joques Blessed Sacrament, Hague
Caldwell Presbyterian Church, Lake George
St. James' Episcopal Church, Lake George
Sacred Heart Church, Lake George
Pottersville United Methodist Church, Pottersville
Harrisena Community Church, Queensbury
Unitarian Universalist Congregation of Glens Falls, Queensbury
Grace Memorial Chapel, Silver Bay
Stony Creek Methodist Church (Library), Stony Creek
First United Methodist Church of Warrensburg, Warrensburg
St. Cecelia's Church, Warrensburg
The committee invites any other church, organization or County resident that may have a bell to ring it at 2:00 pm on March 12, 2013 for five minutes in remembrance of the founding of Warren County.
Contact
: Ann McCann Warren County Historian
historian@warrencountyny.gov
518.761.6544