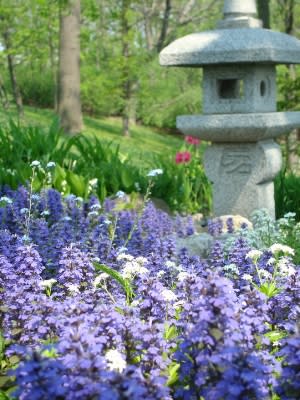 14 peace gardens across New York State offer magnificent display of flowers
Batavia, N.Y. - The old saying "April showers bring May flowers" is proven to be true yet again. The Bicentennial Peace Garden Trail, which stretches across New York State from Lewiston to Oswego, is full of blossoming flowers and plants. Guests are encouraged to visit the 14 permanent gardens now through October to experience them in bloom and witness their beauty.
The Peace Garden Trail spans across the Greater Niagara, Finger Lakes and 1000 Islands/Seaway regions of New York State. Blooming annually from May to October, each garden is unique in style and design. Thanks to volunteers, museum staff members and local Master Gardeners, the gardens are brimming with a variety of flowers in vibrant colors.
The Trail tells the compelling story of the War of 1812 and commemorates the peace that has existed between the United States and Canada for over 200 years. Interpretive panels explain the significance of each garden to the War of 1812, making a journey across the Trail an educational and fun experience for visitors of all ages.
The gardens strive to create an awareness of the dedicated people promoting peace throughout the world, and offer a moment of tranquility and beauty for visitors to enjoy. In addition to flora and fauna, public works of art, fountains, benches, globes and statues are included to promote reflection and relaxation. Several gardens display sculptures donated by artists from the United States and Canada, inspired by the Trail.
The Peace Garden Trail was unveiled in 2012 on the bicentennial anniversary of the War of 1812 to celebrate 200 years of peace between the United States and Canada. The Trail was modeled after the International Peace Garden concept - which dedicates a garden each year to recognize the contributions of a city and country making the world more peaceful. The Canadian Government presented the United States with the first peace garden in 1990 in recognition of the countries sharing the longest undefended border in the world.
More information about the Trail, the gardens and the War of 1812 is available at www.peacegardentrail.com and www.ipgf.org.
###
About the Peace Garden Trail of New York
Peace gardens bursting with blossoms trace the historic route of the War of 1812 across the state of New York. Blooming May through October, this trail tells the compelling story of how the events of the War of 1812 helped to shape the future of the United States. The natural beauty of these permanent gardens, each representing a chapter in history, commemorates the peace that has existed between Canada and the United States over the past 200 years.
Journey along the trail to discover the history, savor regional foods and take in nearby attractions. For more information, visit: www.peacegardentrail.com and www.ipgf.org
Media Contact:
Colleen Knopeck
585-394-0787 x2