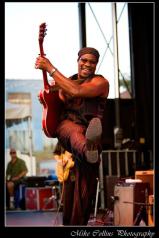 Oswego County Federal Credit Union sponsors Friday night lineup
Oswego, NY
- Opening night of jazz and blues highlights the return of East Park as a featured venue at Harborfest. Oswego County Federal Credit Union will sponsor the Friday Night concert featuring The Kirsten Thien Band and Bill Morganfield that starts at 7:30 PM on the Jazz & Blues Stage "One of the most frequently asked questions last year was "
what happened to East Park?" said Tom Van Schaack, Harborfest's Executive Director. "The jazz and blues was missed last year and by bringing back East Park we have diversified the music at Harborfest with three great live stages. We have an outstanding line up of jazz and blues planned for East Park, including our opening night concert. We appreciate the support of Oswego County Federal Credit Union and all they do for our community."
Bill Morganfield
is the son of McKinley Morganfield (a.k.a. Muddy Waters) and has emerged in the past few years as one of the top young blues talents in America. Bill has played all over the world in the past 11 years, bringing pure joy to those who have had the pleasure of seeing his live performance. Many men try to fill their father's shoes when they join the family business. Few, however, must prove they are up to the task in front of an audience as large as the one that watched Big Bill Morganfield. Big Bill's story is simply a great success story. Many have dreams, but so few have what it takes to make that dream a reality. He came from poverty and the odds were not in his favor. But hard work, burning desire, perseverance, and strong religious convictions gave him the strength and focus needed to fulfill his dreams.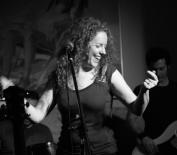 Kirsten Thien's
soulful delivery of intelligent, spunky, and sensual songs has garnered praise from fans and critics alike. While comparisons abound (from Keb' Mo' to Sheryl Crow), Thien has carved out her own unique Contemporary Blues sound that travels the highway between Chicago in 1955, Memphis in 1969, and New York present-day (Thien's home in the space-time-continuum), where it all comes together. Thien's touring lineup have been together for 5 years and promise a romping, stomping good time! "We are extremely proud to continue our support of Harborfest and are very excited to sponsor the re-opening of East Park Jazz Stage," said Bill Carhart, Chief Executive Officer of Oswego County Federal Credit Union. The Kirsten Thien Band will open the Friday Night concert at 7:30 PM on the Jazz & Blues Stage. "Big" Bill Morganfield will follow at 9:30 PM. Friday afternoon the music on the Jazz & Blues Stage begins at 1:30 PM with Dam Dog, followed at 3:30 PM by The Mike Roberts Band and at 5:30 PM by Los Blancos. The Friday afternoon concerts are presented by C's Farm Market. Harborfest 2010 is scheduled for July 22-25.
CONTACT:
Tom Van Schaack, Executive Director (315) 343-6858
tvanschaack@oswegoharborfest.com
Photo Caption:
"Big" Bill Morganfield and The Kirsten Thien Band highlight the July 23, 2010 Harborfest concerts on the East Park Jazz & Blues Stage presented by Oswego County Federal Credit Union.
-30-