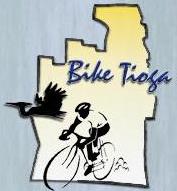 Owego, N.Y.
- Grab your helmets, because it's Bike Tioga's 10th anniversary! For those who aren't familiar with Bike Tioga, it is an organized two day cycling event on August 4th and 5th in Owego, NY. Bike Tioga is a family friendly event for people of all ages and experience levels. Whether you are a seasoned pro or just looking to get some fun exercise for the weekend, we welcome you! There are 7 different rides to choose from throughout the weekend, ranging from 26 to 100 miles on Saturday and 25 to 60 miles on Sunday. Since this is not a race, cyclists will have the opportunity to stop along the ride for rest and refreshments.  Rides include a variety of terrain from flat to hilly and go through southern New York State, Northern Pennsylvania, Broome County, Tioga County, and Tompkins County depending on the route selected. All riders will be given a map and there will be clear road markings along each route. Each ride leaves as a group from Hickories Park Pavilion #5 at a designated time and will return back there by 4:00pm later in the day. There will be food available after the ride as well as free massages. You can now register online with PayPal or credit card or mail/fax the registration form to the Tioga County Tourism office. The registration fee is $15 for one day, $20 for both days.  The registration form can be found on our website.  All participants receive a Bike Tioga tie dye t-shirt commemorating the 10th anniversary.  You can also sign up at the event for $20 for one day, or $25 for each day, but t-shirts are not guaranteed. We are always grateful for sponsors so if you or your organization would like to donate to help make this event possible please give us a call. For more information please call the Tioga County Tourism office at 607-687-7440 / 1-800-671-7772 or visit our Bike Tioga website at
http://www.biketioga.com/
. We hope to see you in August!
###