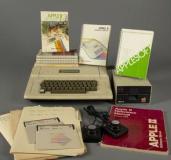 Rochester, N.Y.
  - Bill Budge, the pioneering game designer of such influential Apple II computer games as
Raster Blaster (1981)
and Pinball Construction Set
(1983)
has donated to the International Center for the History of Electronic Games
(ICHEG)
at The Strong
®
one of the most iconic objects in video game history-his original Apple II computer, which he used to invent game play features such as user-generated content and level editors that are now standard in many games. Additional items in the donation include computer manuals (among them, an Apple II guide signed by Steve Wozniak); and source code for
Mouse Paint
and programs written during his high school and college years. "Budge first achieved success as a game designer in 1981 with his popular early pinball game
Raster Blaster
, which he sold through his company BudgeCo," says ICHEG Director Jon-Paul Dyson. "But his true contribution to the field came from his development of
Pinball Construction Set
, which enabled users to create their own pinball playing field. This was perhaps the first game to make user-generated content a key part of the play and the design of the game. The significance of this donation can be compared to Orson Welles donating the camera he used in making
Citizen Kane
to a
film museum."        Says Budge, "I am proud to donate artifacts of my earliest work to the International Center for the History of Electronic Games. While these were personal treasures, I believe that making them available to everyone increases their value and hope many others can learn and find inspiration from them."
Pinball Construction Set
became a best-seller when Electronic Arts (EA) acquired it and issued it in one of its album-style packages meant to promote excitement about the game and the developer. EA's "rock star" promotions featured Budge in its pioneering ads and helped him gain visibility in the field.
Pinball Construction Set,
credited with launching the "builder" or "construction" genre of video games, sold more than 300,000 units. Budge received the 2011 Pioneer Award from the Academy of Interactive Arts and Sciences for this game-changing innovation.
About the International Center for the History of Electronic Games
 Situated at
The Strong
®
, the International Center for the History of Electronic Games collects, studies, and interprets video games and other electronic games and related materials and the ways in which electronic games are changing how people play, learn, and connect with each other. At 37,000 items and growing, ICHEG holds the largest and most comprehensive public collection of its kind in the United States and one of the largest in the world. ICHEG's collection includes video games, systems, and related materials that illustrate how the games have been conceived, developed, sold, and used. These materials include packaging, advertising, publications, electronic game inspired consumer products, literary and popular inspirations of electronic game imagery, personal and business papers, and other associated artifacts and documents that represent or illustrate the impact of electronic games on people's lives. Learn more about ICHEG at
http://www.icheg.com/
.
Contact
: Susan Trien, 585-410-6359,
strien@thestrong.org
Shane Rhinewald, 585-410-6365,
srhinewald@thestrong.org