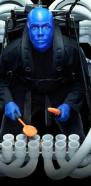 Experience The Phenomenon
First-Ever Theatrical Tour Returns To Proctors From July 21 To July 22
Schenectady, N.Y. -
BLUE MAN GROUP returns to Schenectady July 21 and July 22, 2012.  Tickets currently are on-sale at Proctors Box Office, (518) 346-6204 or online at proctors.org. BLUE MAN GROUP's last Capital Region appearance was at Proctors and delighted over 15,000 residents. Although BLUE MAN GROUP has toured previously with its Megastar arena rock show, this marks the first theatrical production to tour North America. The theatrical tour, which includes the July return to Proctors, features classic Blue Man moments as well as brand new content. The sound, set, and video design for this tour centers on a proscenium-sized LED curtain and high-resolution screen create an entirely new, high-impact visual experience for Broadway houses across the nation. BLUE MAN GROUP has received praise from critics across the country. The Baltimore Sun raves, "Blue Man Group packs a wallop. It's a big, loud, funny, silly, visually arresting production!" The Charlotte Observer says BLUE MAN GROUP is "a hugely entertaining show for anyone ages 9 to 90". The San Antonio Express-News proclaims it's "an exhilarating, thought-provoking, laugh-yourself-silly evening of percussion-heavy rock music, comedy and playful commentary." BLUE MAN GROUP creates experiences that defy categorization. BLUE MAN GROUP is best known for multi-media performances that feature three bald and blue characters who take the audience on a journey that is funny, intelligent and visually stunning. A live band, whose haunting tribal rhythms help drive the show to its climax, accompanies the Blue Men. "Our theatrical productions take a humorous look at what we like to call 2.5-D space," says BLUE MAN GROUP Co-Founder Philip Stanton.  "An example of what we mean by this would be emailing or texting the person in the next office rather than walking over to talk to them face-to-face." "We say that no matter how high-tech things get, there's still something human there. We'll always need others, always need to collaborate. People still need to come together and look each other in the eye.  Through the Blue Man's connection with the audience, we hope to encourage this human-to-human interaction, while helping people reconnect with their own sense of wonder and discovery, with their own sense of what is possible in their lives." Tickets for BLUE MAN GROUP Available NOW! Ticket prices for BLUE MAN GROUP at Proctors are $20, $30, $45, $60 & $75 (
Subject to change),
and are available at Proctors Box Office, (518) 346-6204 or online at proctors.org. BLUE MAN GROUP is Family Friendly.  Running time for BLUE MAN GROUP at Proctors is 105 minutes with no intermission. BLUE MAN GROUP at Proctors is made possible with public funds from the New York State Council on the Arts, celebrating 50 years of building strong, creative communities in New York State's 62 counties.
About NETWORKS Presentations
NETworks Presentations, LLC was founded in 1995 by Kenneth Gentry, Seth Wenig and Scott Jackson, NETworks has produced and managed over 70 national and international touring productions. Previous productions include
Oliver!, Little Women
starring Maureen McGovern,
Jekyll & Hyde, Kiss of the Spiderwoman, Cinderella
starring Eartha Kitt and Deborah Gibson,
Fosse
starring Ben Vereen and Ruthie Henshaw,
The Light in the Piazza, My Fair Lady
co-produced with Cameron Mackintosh, Rodgers and Hammerstein's
Oklahoma, Matthew Bourne's Swan Lake, Sweeney Todd, The Demon Barber of Fleet Street
, among many others. Joining returning hits
Annie, The Drowsy Chaperone, Hairspray
and
The Wizard of Oz
this season are
Disney's Beauty and the Beast, Young Frankenstein
, and the Lincoln Center's production of Rodgers and Hammerstein's
South Pacific
. Future titles include Joyful Noise's production of
Handel's Messiah Rocks, A Chorus Line,
Spring Awakening
,
Les Misérables
and the
Blue Man Group
national tour.
About BLUE MAN GROUP
Blue Man Group (
http://www.blueman.com/
) is a multinational media and entertainment company with theatrical and digital media operations across three continents, permanent live performance installations in six cities, an ongoing theatrical tour of the USA and Canada, as well as a highly acclaimed show on Norwegian Cruise Line's Epic. Audiences have multiple opportunities to discover
BLUE MAN GROUP
through the scope and variety     of its creative projects, including:
BLUE MAN GROUP'S headlining performance on the new Norwegian Epic by Norwegian Cruise Line-the Official Cruise Line of Blue Man Group
BLUE MAN GROUP family-focused educational projects, including a touring Children's Museum exhibit, "Making Waves"
BLUE MAN GROUP'S original music, including the Grammy®-nominated "Audio", as well as four additional albums, and numerous scoring projects for film, TV and commercials
BLUE MAN GROUP'S multiple performances on popular television shows such as The Tonight Show, Ellen, and Regis & Kelly; and unique storylines in "Scrubs" and "Arrested Development"
As the company grows, it remains true to its vision of providing exciting experiences in a variety of media, appealing to a broad range of age groups and cultural backgrounds. Learn more at www.blueman.com.
About Proctors
Proctors in Downtown Schenectady, NY, offers more than 1,700 events a year to close to 600,000 visitors and residents of New York State's Capital Region.  As a charitable, cultural and educational non-profit organization, Proctors depends on membership, donations and grants to bring exciting shows and excellent educational and community events to the Capital Region. Income from ticket sales pays for only 67% of the cost of running Proctors.
###
Contact:
Thom O'Connor 518-382-3884, 166
toconnor@proctors.org