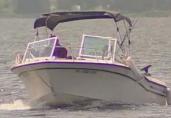 NY's Discover Better Boating Series Begins May 18
Syracuse, N.Y.
- The Discover Better Boating in New York television series of monthly tips resumes May 18. The educational outreach is a collaboration by New York Sea Grant, the Boating Industries Association of Upstate New York (BIA) and YNN, Syracuse. The first segment will focus on boating apps for smartphones and other electronic devices.   Series host Dave White, a coastal recreation and tourism specialist with New York Sea Grant, interviews marine industry professionals about how to enjoy New York's waters cleanly, safely, cost-effectively, legally, and in environmentally-friendly ways.   Topics have included fuel efficiency, boating safety, a how to buy or rent a boat, trailering, storage, US Coast Guard courtesy vessel examination, and boating destinations in NY.   The seasonal series began in 2011 as a result of Discover Clean & Safe Boating campaign created by New York Sea Grant and BIA in 2008.   Shows air the third Saturday of the month from May through October. The 2011 and 2012 segments of Discover Better Boating are online at
http://centralny.ynn.com/content/features/discover_better_boating/
.
###  More Info: New York Sea Grant (NYSG) is a cooperative program of Cornell University and the State University of New York, and one of 33 university-based programs under the National Sea Grant College Program of the National Oceanic and Atmospheric Administration (NOAA). This network also includes a National Sea Grant Law Center and National Sea Grant Library. Through its statewide network of integrated services, NYSG has been promoting coastal vitality, environmental sustainability, and citizen awareness about the State's Great Lakes and marine resources since 1971. For updates on New York Sea Grant activities, http://www.nyseagrant.org/ has RSS, Facebook, Twitter and YouTube links. The Boating Industries Association of Upstate NY is an association of independent marine dealers, retailers and marine-related businesses located throughout Central NY. The February Central NY Boat Show and Fall Boat Sale are annual BIA events at the NYS Fairgrounds in Syracuse. Learn more: http://www.cnyboating.com/. YNN is one of thirteen 24-hour local news channels owned and operated by Time Warner Cable nationwide. Content is generated from seven regional newsrooms. The system has nearly 600,000 subscribers across a 25-county, 15,000 square mile area. YNN Syracuse telecasts one program feed to Central/Northern NY, one to the Southern Tier. Learn more: http://ynn.com/.
###
Contact
: Dave White, NY Sea Grant, 315-312-3042 Barb Caster, Boating Industries Association of Upstate New York, 315-447-9286 Publicist Kara Lynn Dunn, 315-465-7578,
/wp-admin/karalynn@gisco.net
Link:  
http://www.seagrant.sunysb.edu/articles/r/2291