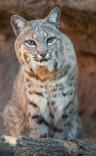 Cornwall, N.Y.
- On Sunday, February 9 at 10 a.m., come to the Hudson Highlands Nature Museum's Outdoor Discovery Center, on Muser Drive, across from 174 Angola Road, Cornwall to learn about Bobcats
.
Spend the morning with environmental educator Carl Heitmuller learning about this magnificent cat, seldom seen, that is thriving in this area. Discussions will include: behaviors, biology and anatomy using bobcat skulls and pelts. "Most folks don't realize that Bobcats actually live in New York," says Carl. Weather permitting after the program take a short walk to search for signs of bobcats at the Outdoor Discovery Center.  This program is for adults with or without children, and children ages 5 and older. Admission: Adults-$7, Children-$5 Museum Members: Adults-$5, Children-$3. For information go to hhnaturemuseum.org or call 845-534-5506, ext. 204.                                                             ###
Photo Caption
: Learn about the Bobcat on Sunday, February 9 - 10 a.m. at the Hudson Highlands Nature Museum in Cornwall. Photo provided.
Contact:  
Marian Goldin, Marketing Manager Hudson Highlands Nature Museum 845-534-5506, ext. 215