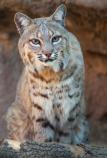 Cornwall, N.Y.
- On Sunday, January 29 at 10 a.m., you're invited to the Hudson Highlands Nature Museum's Outdoor Discovery Center, on Muser Drive, across from 174 Angola Road, Cornwall to learn about
Bobcats.
Spend the morning with Environmental Educator Carl Heitmuller learning about this magnificent cat, seldom seen, that is thriving in this area. Discussions will include: behaviors, biology and anatomy using bobcat skulls and pelts. This program is recommended for adults with or without children, and children ages 5 and older. Admission: $5 per person. Museum Members: $3. For information call 845-534-5506, ext. 204. Visit the museum's website at
http://www.hhnaturemuseum.org/
.                                                            
###
Photo Caption
: Learn about the Bobcat on Sunday, January 29 - 10 a.m. at the Hudson Highlands Nature Museum in Cornwall. Photo provided.
Contact:  
Marian Goldin, Marketing Manager Hudson Highlands Nature Museum 845-534-5506, ext. 215