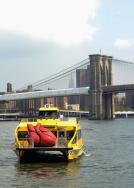 New York, N.Y.
- BODIES...The Exhibition
has put its heart on display - literally! A huge anatomical heart was delivered to South Street Seaport's Pier 17 via New York Water Taxi on Aug. 15, creating a buzz as the iconic yellow New York Water Taxi slowly approached Pier 17 with the biggest heart New York City has ever seen. Before the heart arrived at South Street Seaport it toured its new home, beginning at Red Hook Brooklyn and passing the Statue of Liberty, Governors Island, Manhattan skyline and Brooklyn Bridge before landing at Pier 17. The heart towers at 13 feet long, 7 feet wide and 12 feet high and its unloading created no small task for BODIES' team of lab-coated museum docents. It was a team effort to move the heart from the New York Water Taxi to Pier 17, and even a couple of inside-out BODIES suits pitched in to lend a skeleton-looking hand. Tourists lucky enough to be visiting the pier enjoyed much more than the average beautiful scenery; snapping photos and excitedly trailing the heart as its made its way across Franklin D. Roosevelt Drive and to its resting place in front of
BODIES...The Exhibition
. Excitement grew as the heart approached
BODIES
, where 120 children from Madison Square Boys & Girls Club awaited its arrival. Squeals and shouts erupted as the heart neared, and
BODIES
' Chief Medical Director Dr. Roy Glover announced its arrival. Dr. Glover spoke of the importance in making healthy decisions, both in food choices and in regular exercise, and how the heart is affected. Dr. Glover then awarded 500 tickets to Madison Square Boys & Girls Club who crowded around the heart, cheesing for photos. The kids toured the exhibit, many with Dr. Glover who was on hand to answer inquisitive questions, including "If a child has 305 bones and an adult has 206, where do the extra bones go?" (Answer: The bones fuse together as your body grows!)
BODIES...The Exhibition
will keep its heart on display through Wednesday, August 22, so get down to South Street Seaport to marvel at the statue and learn about the organ, whose individual parts are identified by numbers. The heart will move from its spot in the "heart" of South Street Seaport on Friday, August 17 back to Pier 17 where it will be weighed in for a Facebook contest.
Visit BODIES...The Exhibition's Facebook page
between now and Friday and make your best guess on the weight (pounds and ounces!) for a chance to win a prize package - $500 travel voucher to NYC, two night hotel stay and two tickets to BODIES...The Exhibition and Dialog in the Dark at South Street Seaport. While you're there, visit the Exhibit and expand your knowledge of your body; did you know:
1. Your heart is about the same size as your fist.
2. The heart circulates the body's blood supply about 1,000 times each day.
3. The heart pumps the equivalent of 5,000 to 6,000 quarts of blood each day.
4. The "thump-thump" sound you hear in a heartbeat is the sound of the valves shutting.
5. The muscles in your heart can create enough pressure to squirt blood 30 feet.
6. By the time you turn 70, your heart will have beat some two-and-a-half billion times (figuring on an average of 70 beats per minute).
7. Your heart beats over 100,000 times a day.
8. Your heart rate can rise as much as 30% during a yawn.
9. A donated heart can last three to five hours outside of the body.
10. The three main factors of heart disease are smoking, high blood cholesterol, and high blood pressure.
**Not for Attribution**
Photo
Credit
: Fernando Leon/Getty Images. High-resolution versions of the attached images are available upon request and a
full gallery can be seen here
.
ABOUT BODIES...THE EXHIBITION
BODIES...The Exhibition
is presented by Premier Exhibitions, a recognized leader in museum-quality touring exhibitions throughout the world, whose exhibits also include
DIALOG IN THE DARK 
and
Titanic: The Artifact Exhibition.
BODIES
provides an intimate and informative view into the human body using over 200 actual human bodies and specimens preserved using an innovative process, meticulously dissected and respectfully displayed. Purchase tickets online at
http://www.bodiesnewyork.com/
, by phone at 1-888-926-3437 or in person at The South Street Seaport Box Office on Pier 17 in Downtown New York, open daily at 10 a.m.
BODIES
...
The Exhibition
is open Sunday - Thursday 10 a.m. - 7 p.m. and Friday - Saturday 10 a.m. - 9 p.m. at South Street Seaport, with the last admission one hour before close. Regular priced tickets start at $26.50 for adult, $20.50 for children 4 - 12 years of age, $18 for students with valid ID and $22.50 for seniors. All children under 12 must be accompanied by an adult.