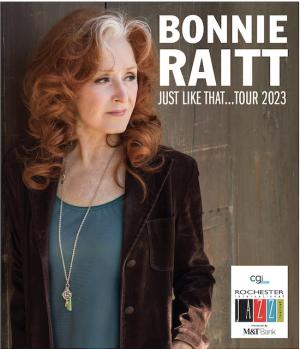 Rochester, NY—December 13, 2022—The CGI Rochester International Jazz Festival is proud to present BONNIE RAITT: Just Like That…Tour 2023 on June 27, 2023, at the festival's 20th-anniversary edition. The concert will be held at 8 p.m. at Kodak Hall at Eastman Theatre. The Festival's 20th Edition will be held from June 23 to July 1, 2023, in downtown Rochester, NY.
Tickets are: Boxes $140/Orchestra $125/Loge/Mezzanine $105/Balcony $85 + $7 service charge per ticket and go on sale Friday, December 16 at 10 a.m. ONLY at RochesterJazz.com or call (585) 454-2060.
About Bonnie Raitt
We are pleased to welcome back Bonnie Raitt to Rochester in June. RIJF, LLC presented a special sold-out performance of Bonnie Raitt on May 27, 2012 in Rochester.
More than just a best-selling artist, respected guitarist, expressive singer, and accomplished songwriter, Bonnie Raitt has become an institution in American music. Born to a musical family, the ten-time Grammy winner, who Rolling Stone named as both one of the "100 Greatest Singers of All Time" and one of the "100 Greatest Guitarists of All Time," is the daughter of celebrated Broadway singer John Raitt (Carousel, Oklahoma!, The Pajama Game) and accomplished pianist/singer Marge Goddard. She was raised in Los Angeles in a climate of respect for the arts, Quaker traditions, and a commitment to social activism.
With Just Like That…, her twenty-first album and her first new release in more than six years, Rock and Roll Hall of Famer Bonnie Raitt continues to draw on the range of influences that have shaped her legendary career, while creating something that speaks to the circumstances and challenges of these unprecedented times. The title comes from a line in one of her new original songs ("Just like that your life can change"), which seemed especially fitting "because there's never been a time that made me look around and say, 'Nobody saw this coming'—where all of a sudden, everything shifted."
Note to Editors - download the latest high res images of Bonnie Raitt in our Press Room
About The CGI Rochester International Jazz Festival
The CGI Rochester International Jazz Festival (RIJF) is one of the world's leading jazz festivals. Founded in 2002, the multi-dimensional nine-day festival is held annually in downtown Rochester, NY, draws more than 210,000 people. It presents more than 1750 artists from around the world in more than 300 shows at 20 venues. From legendary performers and familiar favorites to rising stars and new discoveries, the Festival navigates all genres of creative improvised music from all corners of the world. RIJF is produced by RIJF, LLC, a privately held company owned by John Nugent and Marc Iacona. Nugent, Producer and Artistic Director, is a noted tenor sax player, who has traveled the world with many jazz artists including Tony Bennett, Ella Fitzgerald, Rosemary Clooney, The Woody Herman Orchestra and The Vanguard Jazz Orchestra. Marc Iacona, Producer and Executive Director, is a Rochester native and President of Simcona Electronics. A business and community leader, he is an avid trumpeter and supporter of the arts.
###