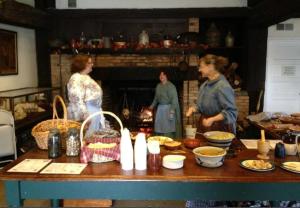 You'll be thankful you checked out these great spots for a sumptuous Thanksgiving feast
Orange County, N.Y. (November 8, 2019) –Want to spend Thanksgiving enjoying the company of those near and dear to you instead of in the kitchen? Gobble up delicious food and Thanksgiving events in Orange County. From Apple pie to restful Zzzz, there are many wonderful places and ways to gather and celebrate with family and friends. A farm fresh Thanksgiving feast grown and prepared right here, in one of New York State's largest growing regions, is sure to evoke feelings of gratitude. Explore the history of the holiday at special family-friendly events as you take in the Hudson Valley fall landscape. Make it a really relaxing upstate Thanksgiving getaway with a stay at one of Orange County's cozy B&Bs or select hotels.
"Thanksgiving is a wonderful time of togetherness, sharing gratitude for family, friends and, of course, feasting," says Orange County Tourism Director Amanda Dana. "Orange County has earned a great reputation for farm-to-table experiences, gourmet foods and all types of innovative eateries. Relax this year and dine at one of our many incredible venues for a yummy Thanksgiving feast."
Find an abundance of Thanksgiving happenings at OrangeTourism.org. There is sure to be a menu and venue that suits you. Here are a few popular Orange County Thanksgiving events to start your planning:
Thanksgiving Tastings at Museum Village, 1010 Route 17M, Monroe: Museum Village will be hosting its annual traditional 19th Century Thanksgiving Tastings on Saturday, November 9 and Sunday, November 10, from Noon until 4:00 p.m. both days. The historically-driven menu will also extend back in time to include dishes from the 17th century, when Thanksgiving began, as well as from the Civil War era, when Lincoln declared it a national holiday. Visitors are welcome to sample a varying array of dishes prepared throughout the day, including cucumber salad, gingerbread, hard tack, a variety of soups and pies, and other historical delicacies! 845-782-8248, museumvillage.org
Thanksgiving Buffet at MacArthur's Riverview Restaurant, 674 Thayer Road, West Point:
Enjoy a Thanksgiving Dinner Buffet at the historic Thayer Hotel, on the grounds of West Point. A full buffet, from appetizers to desserts, will provide something for everyone, all prepared by excellent chefs. Held on Thanksgiving Day, November 28, seats for this well-known feast do fill up quickly, so make sure to reserve your spot early for seating at either Noon, 3:00 p.m. or 6:00 p.m. Other seating times will be offered as available. Call 845-446-4731, x7929 for reservations and information, and to view the Thanksgiving Buffet menu, please visit thethayerhotel.com/thanksgivingbuffet.html
 
Thanksgiving Buffet at Anthony's Pier 9, 2975 Route 9W, New Windsor:
This Thanksgiving, let the exceptional chefs and service team at Anthony's Pier 9 cater to you and your family. With traditional dishes, all-you-can-eat entrées and side dishes, and a fantastic assortment of desserts, this is a Thanksgiving dinner buffet perfect for celebrating with family and kicking off the holiday season. This event takes place on Thanksgiving Day, November 28, 2019, from 12:30 p.m. until 3:30 p.m. Reservations are required for this in-demand event, and the prices are $36.95 per adult and $18.00 for children ages four to 12 years old. Call 845-565-3390 to reserve your space, or visit piernine.com/events for more information.
Thanksgiving Tours at Brick House Museum, 850 Route 17K, Montgomery: Maybe you'd just like to see what old world Thanksgivings looked like. Join us on Saturday, November 16, 2019, for a Thanksgiving tour of the elegant 1768 historic homestead, which will be decked out in full autumn splendor. Holiday arrangements will adorn all ten rooms, while the dining room will be set for a formal Thanksgiving feast from yesteryear. You can even enjoy some light refreshments in the period-correct downstairs kitchen. Tours will be taking place from Noon until 4:00 p.m., and admission is $3 for adults and $2 for children. Learn more at hillholdandbrickhouse.org.
Think about sleeping off some of those calories – and that tryptophan – nearby. Extend your stay upstate at one of Orange County's many cozy B&Bs or select hotels. There's a place for you, whether you're looking for a historic inn or a contemporary hotel.
About Orange County Tourism
Orange County Tourism, based in Goshen, N.Y., is the county's tourism headquarters and a participant in the I LOVE NY program. A comprehensive listing of area attractions, lodging, and events can be found at www.OrangeTourism.org. Like Orange County Tourism on Facebook for the latest news on local happenings. For a free copy of the Orange County Travel Guide, e-mail tourism@orangecountygov.com or call 845-615-3860.
Photo: Museum Village Thanksgiving
###
Contact:
Jason Upchurch
Focus Media, Inc.
(845) 576-2218
jupchurch@focusmediausa.com