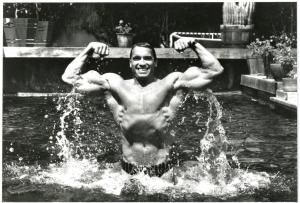 FLEX - February 22 to June 7, 2020
Plaster casts of ancient sculpture juxtaposed with comic books, superhero figurines, bodybuilder photographs, and contemporary artwork by Leonce Raphael Agbodjélou, Nick Cave, Chie Fueki, Lucy Kim, John Lesnick, Andres Serrano, and Nancy Spero
Saratoga Springs, NY (December 18, 2019) — The Frances Young Tang Teaching Museum and Art Gallery at Skidmore College presents the interdisciplinary exhibition FLEX, from Feb. 22 through June 7, bringing together contemporary and historical artworks and material culture to consider the intersections of muscular physiques and heroic images, how classical ideals are rearticulated today, and how muscled bodies represent changing notions of bravery, beauty, and health. 
A central focus of the exhibition are plaster casts made from ancient Roman and Greek sculptures, including the fifth century B.C.E. marble fragment of a male figure called Torso of Poseidon, Figure M, originally from the Parthenon in Athens, Greece and now housed at the British Museum in London and the Acropolis Museum in Athens, and The Dying Gaul, which was cast from the Roman copy, in the Capitoline Museum in Rome, of the third-century B.C.E. Greek original. These and other casts will occupy the center of the gallery and also afford views of the work on the walls, allowing visitors to see unexpected juxtapositions and create new connections. For example, one point of view allows a visitor to see at once both The Belvedere Torso, which lacks arms and legs below the knees, and photographs by Michael Stokes that show muscular bodies of wounded veterans who are missing limbs.
Other items on view include Charles Atlas advertisements; vintage and contemporary comic books; midcentury muscle magazines; figurines of Superman, The Hulk and other superheroes; photographs of bodybuilders by Gregor Arax, Bruce Bellas, Harry Benson, Skip Faulkner, Constantine Hassalevris, Bob Mizer, Al Urban, and Russ Warner; and contemporary art by Leonce Raphael Agbodjelou, Nick Cave, James Esber, Chie Fueki, Lucy Kim, John Lesnick, Andreas Serrano, and Nancy Spero.
FLEX is organized by Skidmore College Professors Dan Curley, of the Classics Department, and Gregory Spinner, of the Religious Studies Department. The exhibition continues the Tang tradition of faculty-curated exhibitions from a range of disciplines. Past exhibitions have explored the seductive and destructive power of sugar, representations of class, the prevalence of pattern in both art and science, the history and impact of the Hudson River, molecules that transformed the 20th century, and artistic, scientific, and religious representations of astrology and the cosmos.
The exhibition will be accompanied by a series of public events, which include:
* FLEX Gallery Tour and Opening Reception, Saturday, February 22, 4 pm: FLEX co-curators Dan Curley, Associate Professor of Classics, and Gregory Spinner, Teaching Professor in Religious Studies, speak about the exhibition, followed by a reception.
* Curators' Tour of FLEX, Tuesday, March 17, Noon: With Dan Curley, Greg Spinner, and Rachel Seligman
* Dunkerley Dialogue with Andres Serrano, Wednesday, March 18, 6pm: Photographer Andres Serrano and Skidmore professor of photography Robert ParkeHarrison in conversation
* Peplum for Beginners, Thursday, March 19, 6pm: Associate Professor Dan Curley leads the first of two evenings of film clips and commentary delving into the world of Peplum, otherwise known as "sword and sandal movies," a genre of Greco-Roman mythological muscle movies
* Advanced Peplum, Thursday, March 26, 6pm: The second of two evenings of film clips and commentary on mythological muscle movies over the decades, led by Associate Professor Dan Curley
Admission to the Museum and public events are free, though a small donation is suggested. For more information, call the Tang Visitors Services Desk at 518-580-8080 or visit http://tang.skidmore.edu.
FLEX is supported by The Andrew W. Mellon Foundation and Friends of the Tang.
About the Tang Teaching Museum
The Tang Teaching Museum at Skidmore College is a pioneer of interdisciplinary exploration and learning. A cultural anchor of New York's Capital Region, the Tang's approach has become a model for university art museums across the country—with exhibition programs that bring together visual and performing arts with interdisciplinary ideas from history, economics, biology, dance, and physics to name just a few. The Tang has one of the most rigorous faculty-engagement initiatives in the nation, and a robust publication and touring exhibition program that extends the museum's reach far beyond its walls. The Tang Teaching Museum's award-winning building, designed by architect Antoine Predock, serves as a visual metaphor for the convergence of art and ideas. Admission to the museum is free (donation suggested). Hours are Tuesday through Sunday, noon to 5 p.m., with extended hours until 9 p.m. on Thursdays. Closed Mondays and holidays. http://tang.skidmore.edu.
Photo: Harry Benson, Arnold Schwarzenegger, 1985, gelatin silver print, 5 7/8 x 8 3/4 inches. Tang Teaching Museum collection, Tang purchase, 2018.11
High-res images can be viewed/downloaded from this link: https://skidmore.box.com/s/xnbyxj2kp0bycp4dci5as54b2g921b06
Contact:
Michael Janairo
Head of Communications
Tang Teaching Museum
518-580-5542