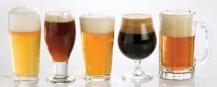 5 p.m. - 8 p.m.
Food, fun, live music and more!
Schenectady, N.Y. -
You're invited to experience the Best Craft Brews of the Capital region at the
2nd Annual Proctors on Tap Brews & Blues,
on Saturday, July 14 between 5PM - 8PM. Participants must be at least 21-years old to attend. Ticket Prices: $25 in advance, $10 designated driver. This indoor and outdoor festival features food from area eateries sharing great samples of hearty pub fare. Enjoy hand-rolled cigars, grilled wursts and gutsy blues by
Folding Sky
and Bobby Vanness.
All Proceeds from the Brews & Blues event will benefit Proctors - helping to continue the dream of bringing art, entertainment and education to the community.*
With sampling mug in hand, participants will choose from more than 75 terrific beers - from stouts, porters or IPAs. There is sure to be something that will get everyone's taste buds buzzing.
Participating Breweries:
Saranac
Harpoon
Saratoga
Adirondack
Lake Placid
Long Trail
Otter Creek
Sam Adams
Magic Hat
Steadfast
More to be announced!
Offering Food and Fun:
20 North Broadway
DeLITEfull CrEATions
Habana Cigars
Katie O'Byrnes
Marotta's Bar-Risto
Wolff's Biergarten
Valley Cats
Proctors acknowledges the
Capital District Blues Network
for their assistance with the music!
*About Proctors
Proctors in Downtown Schenectady, NY, offers more than 1,700 events a year to close to 600,000 visitors and residents of New York State's Capital Region.  As a charitable, cultural and educational non-profit organization, Proctors depends on fundraising events, membership, donations and grants to bring exciting shows and excellent educational and community events to the Capital Region. Income from ticket sales pays for only 67% of the cost of running Proctors. For more information please contact Leesa Perazzo, Special Events/Group Sales Manager at 518•382•3884 x 187 or
lperazzo@proctors.org
###