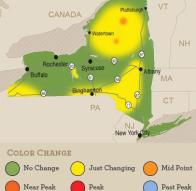 Go to fall
getaways.iloveny.com for the latest color reports and money-saving travel offers
ATTENTION EDITORS, NEWS DIRECTORS AND METEOROLOGISTS: This is the second 2009 FALL COLOR REPORT for New York State. Reports are obtained from field observers and reflect expected color conditions for the coming weekend. FALL COLOR REPORTS are issued every Wednesday afternoon.
Albany, NY
– Empire State Development's I LOVE NEW YORK program today released its second 2009 Fall Color Report for New York State. The program's statewide field observers report that bright, beautiful fall colors are quickly overtaking the green shades of summer in the Adirondacks and Catskills regions. Noticeable color changes are also expected for some parts of the Capital-Saratoga, Central Leatherstocking, Chautauqua-Allegheny and Finger Lakes regions.  In the Adirondacks, the rapidly changing landscape is most apparent in the Mt. Arab and Tupper Lake areas of Franklin County, where observers project 45 percent color change by the weekend. Look for bright leaves of copper, orange, yellow and some sporadic scarlet predominating across a fading green backdrop. Foliage spotters in the Old Forge area of Herkimer County expect 30 percent color change this weekend, with burgundy leaves of average brilliance, accented by splashes of red and orange, quickly overtaking the green. Isolated areas of up to 50 percent color change have been noted just south of Old Forge. In the North Creek area of Warren County, around the upper Hudson River Gorge, expect up to 25 percent color change with orange and red leaves predominating among the fall colors. At Whiteface Mountain in Wilmington, Essex County, around 20 percent of the leaves are expected to have changed by the weekend. Predominating fall colors include brick red, orange and yellow. Hamilton County foliage observers in Indian Lake expect a 15 percent color change by weekend. Look for brick red and rust leaves, with the aspens and birches beginning to show slight a slight emergence of yellow. Lake Placid also expects about 15 percent color change, as red and yellow leaves continue to emerge. Color change is also making significant advances in the Catskills. In the Kingston area of Ulster County, look for 35 percent color change by the weekend, as cooler nights are bringing noticeable changes. Bright shades of yellow and pale orange, with hints of red, are starting to dominate the landscape. Foliage spotters at Belleayre Mountain in Highmount predict 30 percent color change, with bright orange and reds becoming quite noticeable. Ulster County foliage spotters reporting from Saugerties expect 25-30 percent color change, with bright yellow leaves predominating and a touch orange. In Sullivan County, the mostly still-green landscape is becoming dotted with shades of amber and gold and a sprinkling of burnished red leaves of average brilliance. Delaware and Greene counties each expect around 15 percent color change by the weekend. In the Capital-Saratoga region, expect to see some areas of Schenectady county with up to 20 percent color change. Predominating fall colors are shades of bright yellow, with touches of red and purple leaves. In the Central-Leatherstocking region, foliage spotters in the Greater Binghamton area of Broome County project up to 15 percent color change, with bright red, yellow and orange leaves beginning to break through the summer green. In the Finger Lakes region, look for slightly more than 10 percent color change in parts of Seneca County. Fall colors are also starting to make significant advances in the Chautauqua-Allegheny region, where spotters in Chautauqua County expect around 20 percent change by the weekend, with touches of orange and rust-colored leaves. Other areas of the state report 10 percent or less color change. Get Up-to-Date Fall Foliage Color Reports Online New York's weekly I LOVE NEW YORK fall foliage color reports continue until the end of the foliage season, around the first week in November. Each Wednesday afternoon throughout the season, reports are updated online to provide the latest information on foliage color conditions in each region of the state. The weekly foliage report, a detailed map charting fall color progress, vantage points for viewing spectacular foliage, suggested autumn getaways and weekly event listings are available by visiting the I LOVE NEW YORK web site at
www.iloveny.com
. Reports are also available by dialing, toll-free, 800/CALL-NYS (800/225-5697) from anywhere in the U.S., its territories and Canada. From all other areas, the number is 518/474-4116. For information on becoming a volunteer Leaf Peeper, e-mail your name, address and phone number to foliage@empire.state.ny.us. 400 Reasons to Hit the Road in New York State This Fall: visit fallgetaways. iloveny.com If New York's spectacular colors aren't enough to get you out on the road this autumn, I LOVE NEW YORK is giving another great reason to love New York. As part of its continuing celebration of the Hudson-Fulton-Champlain Quadricentennial, the state's tourism agency is promoting over 400 deals, discounts and free things-to-do around the state. Now through Nov. 23, vacationers will find the ingredients for a perfect fall getaway, whether a quick day trip or weekend escape, at www.iloveny.com/fall. Travelers will find nearly 200 lodging deals, along with great discounts on attractions, food and wine, shopping, and transportation. With everything from hayrides to theater tickets to wine tastings, families can easily choose the perfect deal for their excursions. This year I LOVE NEW YORK has partnered with JetBlue to offer deeply discounted fares from New York City to Buffalo, Syracuse, and Rochester. Travelers can also hop on Amtrak with a 20% discount on fares to any New York State destination and get a 5% discounted rental from Enterprise Rent-A-Car from the rail station. About New York State New York State features 11 beautiful vacation regions. New York's attractions span from landmarks such as Niagara Falls, to the wine trails of Hudson Valley and treasures like the Baseball Hall of Fame in Cooperstown. Whether it's wide-ranging outdoor activities for the whole family like fishing, hiking and boating, culinary wonders and farm-to-table fresh foods, or the rich history and culture of one of the 13 original colonies, New York State offers diverse activities for all travelers. For more information visit www.iloveny.com. Media can find press releases and more at
thebeat.iloveny.com
.
###
CONTACT
: Eric Scheffel Empire State Development (518) 292-5274
escheffel@empire.state.ny.us