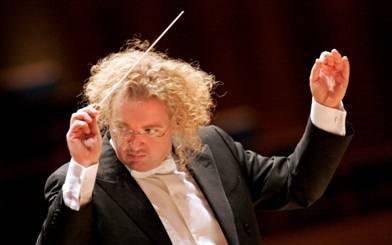 Balanchine's Dramatic FIREBIRD Highlights NYCB Season
Jazz' Rising Star SARAH MORROW Joins Fest Lineup; Celebrated WISTER QUARTET Returns to Chamber Music Festival 
Saratoga Springs, N.Y.
- French-born conductor Stéphane Denève, Chief Conductor of the Stuttgart Radio Symphony Orchestra and Music Director of the Royal Scottish National Orchestra, will conduct three opening week performances of The Philadelphia Orchestra's Saratoga season including Opening Night on Wednesday, August 1. The news was unveiled as part of SPAC's "Building of a Season" digital announcement series at
spac.org
. Online ticket sales for this performance and all SPAC classical events begin on Monday, FEB 13 for SPAC members and for the public on Monday, MARCH 12 at spac.org.  Through appearances with the world's leading orchestras, Denève has emerged as one of the most exciting conductors of his generation, earning critical praise from reviewers across the globe, including the
Chicago Tribune
 which noted, "...conductors of this quality don't come along very often, and, when they do, attention must be paid and admiration extended." "Last season's guest conducting appearances by Stéphane Denève were a major highlight of the Orchestra's program. A brilliant conductor, he is also a wonderful communicator whose passionate, articulate explanations of orchestral works engaged our audiences and added depth to the experience," said Marcia J. White, SPAC's President and Executive Director.  "We look forward to welcoming him back to the podium in 2012."
AUG 1 - 3
Stéphane Denève, Guest Conductor
The Philadelphia Orchestra
              Chief Conductor of the Stuttgart Radio Symphony Orchestra and Music Director of the Royal Scottish National Orchestra, Stéphane Denève, has been described as "impressive," "gifted" and a "kinetic presence on the podium." Recognized internationally as a conductor of the highest caliber, Denève has won praise from audiences and critics alike for his performances and programming. His achievements as Music Director of the Royal Scottish National Orchestra, a post which he assumed in 2005, have earned particular admiration. During his five years with the ensemble he has overseen a number of critically acclaimed initiatives including a cycle of Albert Roussel's orchestral works for Naxos and a disc of orchestral music by Guillaume Connesson for Chandos. The Orchestra lauded Deneve's tenure, which concludes with the 2012 season, as "one of the most rewarding in the organization's recent history." A graduate and prize-winner of the Paris Conservatoire, Stéphane Denève began his career as Sir Georg Solti's assistant with the Orchestre de Paris and Paris National Opera, also assisting Georges Prêtre and Seiji Ozawa during this time. At home in a broad range of repertoire and a champion of new music, Denève has a particular affinity with the music of his native France, and in recent years he has also premiered a number of works by the contemporary French composer Guillaume Connesson. Recent engagements have included debuts with the Boston Symphony, Bavarian Radio Symphony, London Symphony Orchestra, NDR Symphony Hamburg and Maggio Musicale Florence; and returns to the Philharmonia Orchestra, Philadelphia Orchestra, The Cleveland Orchestra, Los Angeles Philharmonic, Toronto Symphony, and Deutsches Symphonie Orchester Berlin among others. Denève leads three varied programs at SPAC, including an Opening Night performance of Rachmaninoff's formidable Symphony No. 2, last performed at SPAC in 1992; a program of works by Bernstein, Ravel and Gershwin; and an evening with Cirque de la Symphonie.
JUL 10, 12 & 13
Firebird
New York City Ballet
New York City Ballet, one of the world's foremost dance companies, will present a dazzling program of classical and contemporary masterpieces during its Saratoga residency, July 10 - 21, including George Balanchine's iconic Russian folk tale ballet
Firebird.
Set to music by Igor Stravinsky,
Firebird
was one of Balanchine's first creations for New York City Ballet, premiering in 1949. The work conveys the story of a
magical glowing Firebird
that is both a blessing and a curse to its captor. Because Balanchine chose to use the orchestral suite rather than the complete three-act score, he simplified the story and emphasized the mythical elements of the Firebird's character. At Balanchine's invitation, in 1970, the artist Marc Chagall designed brilliantly colorful new sets and costumes for New York City Ballet's production and Jerome Robbins contributed new choreography for the monsters' dance. The work was restaged again in 1985 at which time a variation, pas de deux, and berceuse of the original Balanchine version were reinstated; Chagall's striking set and costume design remained intact.   "Balanchine's
Firebird
is one of the most visually stunning works in City Ballet's vast repertory and a favorite with audiences everywhere, said White. "This legendary story ballet, which includes roles for several local children, offers an unforgettable experience for families and audiences of all ages."
SAT, JUN 30
Sarah Morrow, jazz trombonist
35th Freihofer's Saratoga Jazz Festival
Jazz trombonist Sarah Morrow, praised as "strong and soulful" by
JazzReview.com
, will be part of the Gazebo stage lineup for the Freihofer's Saratoga Jazz Festival on Saturday, June 30. Morrow has received international recognition and critical acclaim performing and touring with her own quintet and as a sideman with many great artists. She has been praised worldwide by reviewers including
AllAboutJazz.com
which stated, "Trombonist Sarah Morrow has it all; creative music with a strong foundation and superb musical skills..."
Discovered by Ray Charles and the first female instrumentalist to become a member of his orchestra, Morrow toured with the legendary pianist and singer from November 1995 through May 1997 and left the group to join Foley, Miles Davis' lead bass player, in Europe as part of a three horn section playing funk. Later she toured with Grammy award-winning vocalist Dee Dee Bridgewater, David Murray, the Duke Ellington Orchestra, organist Rhoda Scott, funk legend Pee Wee Ellis, the American All-Stars in Paris, and the Tribute to Mingus band featuring Mingus alumni Ted Curson and Ricky Ford. With the release of her first album "Greenlight" in 1999, Sarah launched her solo career and has gone on to win critical acclaim as a prominent soloist, bandleader, and composer /arranger. Winner of the 2005 Cork Jazz Festival "Rising Star" award, Sarah continues to tour as a leader and guest artist throughout the world. Sarah will be performing selections from her most recent critically album
Elektric Air
.
TUES, AUG 7
The Wister Quartet
Saratoga Chamber Music Festival at the Spa Little Theatre
The Wister Quartet, Philadelphia's celebrated chamber music ensemble, returns to the Saratoga Chamber Music Festival for the 2012 season. The Grammy-nominated group will perform on TUES, AUG 7, along with Festival Music Director and piano virtuoso André - Michel Schub and cellist Hai-Ye Ni in a program featuring works by Boccherini, Debussy and Dohnanyi. The famed chamber music quartet, in their 25th season, consistently earns high marks from critics and audiences alike for outstanding musicianship. The Quartet, whose members include Lloyd Smith, cello; Nancy Bean, violin; Davyd Booth, violin, and Pamela Fay, violin, has shared the stage with many of the music world's finest artists including Yo-Yo Ma, Wolfgang Sawallisch and Alicia de Larrocha. As David Greene of the Bethlehem, PA
Globe-Times
wrote, "The Wisters, individually and collectively, produce some of the richest string sound I've encountered. Their ensemble is magnificent and they play with imagination and passion." Daniel Webster of the
Philadelphia Inquirer
put it simply, "The Quartet has become the foremost [Philadelphia] chamber music ensemble." In addition to concerts in Europe and China, the Quartet performs widely in the Philadelphia region, including concerts at Arcadia, Haverford and Swarthmore Universities and Gettysburg College. They appear regularly in concert series presented by The Philadelphia Orchestra, The German Society of Pennsylvania, The Chamber Music Society of Bethlehem, the Glencairn Museum, and the Renaissance Musical Arts series in Albany, New York. The quartet has recorded for Direct-to-Tape Records, with its first CD receiving a Grammy nomination. Prior to the Quartet's performance, Andre-Michel Schub will host a 7 p.m. presentation of "Early on Tuesday," a new chamber music Pre-Talk series that will take place each Tuesday at 7 p.m. in the Spa Little Theatre. 
###