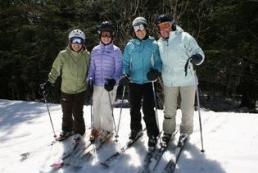 Canandaigua, N.Y.
- For the first time in 47 years, Bristol Mountain will end the season with 33 out of 34 trails open.  "It has been a tremendous year", states General Manager, Dan Fuller.  "The season began on December 5
th
 and due to stellar conditions throughout the season and the efforts of our mountain crew, it has been one of the best seasons on record for exceptional surface conditions." So why was this a better season than any other season?  Ken Keenan, Mountain Manager, shared a recent report from the National Oceanic and Atmospheric Administration.  "In short, the report from the NOAA states that Western New York's meteorological winter was relentless.  Its consistency was almost unprecedented as a blocking pattern, which set up in the Arctic and remained locked in place through December, January and the first half of February before finally breaking down during the middle and later portion of February.  This kept our region under near constant cold with almost daily lake effect snows until a break in the pattern allowed for more synoptic snowfalls in February.  It was the coldest winter in 8 years and the 3
rd
 coldest in the last 30 winters.  Secondly, we only experienced two brief thaws the entire winter.  Both two day events (Dec 31-Jan 1 and Feb 17-18) featured temperatures in the 50's.  These thawing events were followed by more snow and cold.  While the total overall snowfall was above normal there weren't any real significant major snow storms (over 8 inches) that occurred this winter".  (source: National Oceanic and Atmospheric Administration) Colleen Copeland of, Victor, NY, joined three of her girlfriends (aka the Bristol Babes) for one last ski of the season.  "What a beautiful day to end on! The entire season has been terrific from the great conditions to the new events like the Full Moon Ski and Ski Dating." "You couldn't have asked for a more perfect season", says, Marketing Director, Drew Broderick.  For non-skiers and non-snowboarders, I know this winter seemed long but for our guests it wasn't long enough!"  Although this is the last official day of the season, Bristol Mountain will make a decision on Thursday afternoon, April 7
th
 as to whether or not to reopen for a bonus weekend on April 9
th
 and 10
th
.  This announcement will be posted on the Bristol Mountain website at 
http://www.bristolmountain.com/
 and on the Bristol Mountain Facebook page at 
www.facebook.com/BristolMountain
.
###
Contact
: Drew D. Broderick Phone:  585.374.1125/ cell: 585-455-4186 Email: 
dbroderick@bristolmt.com
Web:  
http://www.bristolmountain.com/
Facebook: 
http://www.facebook.com/BristolMountain
Photo: Date Taken:  April 3, 2011 Location:  Bristol Mountain, Eclipse Trail People:  L to R:  Mary Schild, Fairport, Collen Copeland, Victor, Nancy Park, Pittsford, and Kathy Riecke, Pittsford,  aka the Bristol Babes