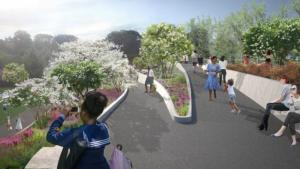 Designed by Weiss/Manfredi and Opening in Summer 2019
Brooklyn, N.Y. – Brooklyn Botanic Garden has announced plans for the Robert W. Wilson Overlook, designed by the innovative, multidisciplinary architecture firm Weiss/Manfredi and opening in summer 2019.  One of the Garden's most significant undeveloped sites, the Overlook encompasses a 1.25-acre area with sweeping views over Cherry Esplanade and the Garden at large. Taking design cues from the adjacent Diane H. and Joseph S. Steinberg Visitor Center—another project designed by Weiss/Manfredi and winner of 20 design awards, including the American Institute of Architects 2013 Honor Award for Architecture—the new Robert W. Wilson Overlook will be reimagined, reconstructed, and replanted in its entirety to create an immersive landscape that amplifies one of BBG's most extraordinary vistas.
 
The existing Overlook site offers dramatic views of the Garden but provides inadequate access between its upper pathway and Cherry Esplanade. Weiss/Manfredi's design for the Overlook introduces an elegant switchback pathway with sculptural retaining walls that enhances the Garden's circulation in one of the most highly visited areas of the Garden by connecting the top and bottom of the Overlook hillside. This new, accessible route encourages visitor engagement with BBG's world-class collections through the creation of communal gathering spaces and new vantage points. The Overlook's striking visual planes and ever-evolving landscape will add to the cinematic experience of the Garden.  
 
The Overlook landscape will be defined by flowering crape-myrtle trees, which flourish beautifully at Brooklyn Botanic Garden, and an immersive four-season planting scheme of ornamental grasses and perennials. In seasonal counterpoint to the Garden's famous spring cherry blossom display, the crape-myrtles offer a spectacular floral show of whites and pinks in late summer, vibrant foliage in the autumn, and intricately textured and patterned exfoliating cinnamon bark that extends their visual appeal into the winter. The grasses and perennials will combine to form a robust, resilient ecosystem that evolves over time, inviting a diversity of insect life and stabilizing the soil to prevent erosion.
 
The Robert W. Wilson Charitable Trust's $10 million total commitment to BBG's Campaign for the Next Century is helping to fund the restoration and redesign of the Overlook site. Says Richard Schneidman, trustee of the Robert W. Wilson Charitable Trust: "Bob loved the beauty of Brooklyn Botanic Garden and its renowned horticultural collections. He was a visionary who was deeply committed to both innovative design and the natural environment. The Robert W. Wilson Overlook, which will provide one of the most stunning vistas in New York City, is a wonderful way of honoring his legacy at BBG and beyond. We are delighted that the gift from the Trust will create extraordinary new opportunities for visitors to experience the natural world and be inspired by the breathtaking sights of the Garden in all seasons."
Scot Medbury, president of Brooklyn Botanic Garden, says, "The Robert W. Wilson Overlook will transform a singular vista into a spectacular, accessible landscape that visitors can move through—one that allows them to enjoy extraordinary plantings up close while taking in one of BBG's most expansive views. Weiss/Manfredi's design seamlessly integrates the Overlook into the rest of the Garden as it knits architectural elements of the Steinberg Visitor Center to major horticultural plantings east and west. Whether during BBG's major public festivals on Cherry Esplanade or during quieter times of the year when visitors come to enjoy the beauty of the Garden, the Overlook will provide BBG's growing audience with the chance to view the Garden from a new and unique vantage."
 
"We are thrilled to continue our work with Brooklyn Botanic Garden," said Marion Weiss and Michael Manfredi, of Weiss/Manfredi. "Our design for the Robert Wilson Overlook is conceived as an ascending crape-myrtle garden shaped by spaces for communal gathering that overlook the iconic Cherry Esplanade. The curvilinear path, cast stone walls, and integrated benches and lighting choreograph a collection of framed views that reveal the magic of the garden."
Project Partners
Lead Site Design/Architect: Weiss/Manfredi LLP
Landscape Architect: SiteWorks LLC
Planting Design Consultant: Wolf Landscape Architecture LLC
 
Further information about the opening of the Robert W. Wilson Overlook will be announced in early 2019.  
 
Note to Press: High-resolution images are available at bbg.org/press. To arrange an interview or for further information, please contact communications@bbg.org or 718-623-7241.  
 
A Garden for the Next Century
The Robert W. Wilson Overlook is part of a decade-long series of site-improvement projects at Brooklyn Botanic Garden—the most significant Garden renewal effort since its founding over a century ago. With each of these projects the Garden is replacing aging infrastructure with modern technologies and greener practices and building its capacity to welcome increasing numbers of visitors now and into the future. Learn more at bbg.org/nextcentury.
 
Support for the Robert W. Wilson Overlook
Lead funding for the Robert W. Wilson Overlook has been provided by the Robert Wilson Charitable Trust.
 
Additional support provided by Market NY through I Love NY/New York State's Division of Tourism as a part of the Regional Economic Development Council awards.
 
ABOUT WEISS/MANFREDI 
WEISS/MANFREDI Architecture/Landscape/Urbanism is a New York-based multidisciplinary design practice known for the dynamic integration of architecture, art, infrastructure, and landscape design. Weiss/Manfredi's designs are marked by clarity of vision, bold forms, and material innovations. Around the world and across typologies, the firm's work addresses pressing environmental and social challenges and asserts the importance of design in the public realm. Projects including Seattle Art Museum: Olympic Sculpture Park, the Women's Memorial and Education Center at Arlington National Cemetery, the Brooklyn Botanic Garden Visitor Center, the Diana Center at Barnard College, and Hunter's Point South Waterfront Park create new natural connections with the built environment.  The firm's current work includes U.S. Embassy in New Delhi, India, Phase II of Hunter's Point South Waterfront Park, the Robert W. Wilson Overlook at Brooklyn Botanic Garden, the Artis—Naples Master Plan for the Kimberly K. Querrey and Louis A. Simpson Cultural Campus, Tulane University Commons, and the Tsai Center for Innovative Thinking at Yale. This May, Weiss/Manfredi will debut a new installation in the main exhibition of the 2018 Venice Architecture Biennale, FREESPACE.
Weiss/Manfredi's distinct vision was honored by the Cooper Hewitt, Smithsonian Design Museum with the prestigious 2018 National Design Award for Architecture. Named one of North America's "Emerging Voices" by the Architectural League of New York, additional honors include the Award in Architecture from the American Academy of Arts and Letters, Tau Sigma Delta Gold Medal of Honor, and the New York AIA Gold Medal. Their work has been exhibited at the Museum of Modern Art, the Solomon R. Guggenheim Museum, the National Building Museum, the Essen Design Centre in Germany, the Louvre Museum, and the Venice Biennale.
ABOUT BROOKLYN BOTANIC GARDEN
Founded in 1910, Brooklyn Botanic Garden is an urban botanic garden that connects people to the world of plants, fostering delight and curiosity while inspiring an appreciation and sense of stewardship of the environment. Situated on 52 acres in the heart of Brooklyn, the Garden is home to over 18,000 kinds of plants and hosts more than 900,000 visitors annually.
 
Learn what's happening at Brooklyn Botanic Garden at bbg.org/visit/calendar, read the Garden's blog at bbg.org/news, and find out what's in bloom at bbg.org/bloom. Visitor entrances are at 990 Washington Avenue, 150 Eastern Parkway, and 455 Flatbush Avenue. For hours, directions, and admission information, please visit bbg.org/visit. Follow Brooklyn Botanic Garden on Facebook, Twitter, and Instagram, and join the conversation using the hashtag #BrooklynBotanic.

PHOTOS: Rendering of Robert W. Wilson Overlook at Brooklyn Botanic Garden. Courtesy of Weiss/Manfredi and Brooklyn Botanic Garden.
Brooklyn Botanic Garden: Elizabeth Reina-Longoria elongoria@bbg.org | 718-623-7241
Weiss/Manfredi: Megan Ardery mardery@weissmanfredi.com | 2I2-760-9002 x48
HI-RES IMAGES AVAILABLE