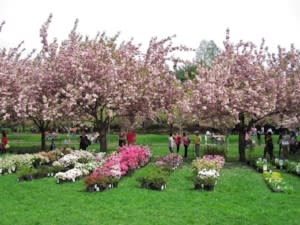 Brooklyn, NY - Brooklyn Botanic Garden's (BBG) Plant Sale returns this year on May 10, 2018, with a Members' Preview on May 9.  New York–area gardeners of all levels flock to the annual sale for its wide selection of locally grown, hand-selected plants. The Brooklyn Botanic Garden Auxiliary, which celebrated its 100th anniversary in 2017, has sponsored the Plant Sale for 65 years.

BBG's Plant Sale offers an extensive variety of both indoor and outdoor plants, including flowering annuals and herbaceous perennials, small trees and shrubs, roses, herbs, vegetables, houseplants, orchids, and more. Easy space-saving plants for apartment dwellers, such as exotic tropicals and ferns and heavy-fruiting blueberries for patio containers, are offered alongside dozens of varieties of clematis, hydrangeas, roses, and other garden favorites.
Among the highlights of the Plant Sale this year:
 
Window box kits for sale in two sizes—18-inch box of herbs and edibles for a sunny windowsill and a 24-inch box for brightly colored annuals for shady windows; includes window box, plants, including installation, planting, and care instructions (available Thursday, May 10 only; limited supply)
Native plants uniquely adapted to the Northeast that attract pollinators, especially endangered bees, and perfect for the dry shade of many Brooklyn gardens
A greatly expanded collection of unusual orchids at phenomenal prices  
A wide range of water-conserving succulents for the water-wise indoor gardener
 
On Thursday, May 10, the following Horticulture staff talks are offered for gardeners of all experience levels:
 
Designs with Annuals | 10:30 a.m.
Led by Wayken Shaw, curator of Lily Pool Terrace and Judy Zuk Magnolia Plaza
 
Shrubs & Perennials for Sun & Shade | 11 a.m. 
Led by Nancy Neiland, curator of the Osborne Garden
 
All about Orchids | 11 a.m. & 3 p.m.
Led by David Horak, curator of the Robert W. Wilson Aquatic House and Orchid Collection
 
Mastering the Art of Kokedama | 11:30 a.m.
Led by Margarita Poulson, curator of interior displays
Kokedama is bonsai without pots. Learn to mount and display plants in charming moss-wrapped spheres.
 
Planting a DIY Sub-irrigated Window Box | Noon
Led by BBG's Community Greening staff
Almost any container can be converted into a water-wise, sub-irrigated planter. Learn how, with the right plant choices, you can keep your sill looking lush with less work and up to 80% less water than a traditional window box!
 
Houseplants for Every Situation | 2 p.m.
Led by Mark Fisher, vice president of Horticulture, and greenhouse staff
 
Q&A on Growing & Using Herbs | 3 p.m.
Led by Jennifer Williams, curator of the Shakespeare Garden and Fragrance Garden

The Plant Sale is free with Garden admission. With each paid Garden admission during the Plant Sale, visitors will receive a free admission coupon to use on a return visit. A supply of red shopping wagons is available, but buyers are encouraged to bring a cart if they can. All major credit cards, cash, and checks are accepted.

A special Members' Preview will take place on Wednesday, May 9, from 4:30 to 8 p.m. Admission is by BBG membership card only; memberships may be purchased at Garden entrances. BBG's 2018 Plant Sale is presented by the BBG Auxiliary. All proceeds benefit Brooklyn Botanic Garden.
ABOUT BROOKLYN BOTANIC GARDEN
Founded in 1910, Brooklyn Botanic Garden is an urban botanic garden that connects people to the world of plants, fostering delight and curiosity while inspiring an appreciation and sense of stewardship of the environment. Situated on 52 acres in the heart of Brooklyn, the Garden is home to over 18,000 kinds of plants and hosts more than 900,000 visitors annually.
 
Learn what's happening at Brooklyn Botanic Garden at bbg.org/visit/calendar, read the Garden's blog at bbg.org/news, and find out what's in bloom at bbg.org/bloom. Visitor entrances are at 990 Washington Avenue, 150 Eastern Parkway, and 455 Flatbush Avenue. For hours, directions, and admission information, please visit bbg.org/visit. Follow Brooklyn Botanic Garden on Facebook, Twitter, and Instagram, and join the conversation using the hashtag #brooklynbotanic.

PHOTO: Brooklyn Botanic Garden's annual Plant Sale on Cherry Esplanade. Photo by Rebecca Bullene. Courtesy of Brooklyn Botanic Garden