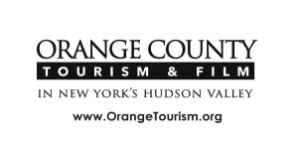 Delicious meals and visits with the Easter Bunny await at venues across the county
Orange County, N.Y. (March 24, 2021) – Spring is officially here and Easter is just around the corner! Whether your family holiday traditions center around a delicious brunch, photo ops with the Easter Bunny, himself, or an egg hunt, venues across Orange County, N.Y., have something in store for everyone. Explore a list of upcoming events that are sure to appeal to the whole family.
"Easter is a time of reflection and celebration, and we could not think of a better way to do that than by spending the day at one of the county's many great establishments. From visits with the Easter Bunny for the kids to shopping for mom and dad, and great food for all, we are excited to see so many businesses offering family-friendly events to mark the special holiday," said Orange County Tourism Director Amanda Dana.
Below are some popular Easter events in Orange County, N.Y. Before visiting any of the locations, please contact the venue directly to confirm that they are open and practice safe social-distancing.
Easter Craft Fair and Flea Market, Homewood Suites by Hilton, 180 Breunig Road, New Windsor; Saturday, March 27- Sunday, March 28, 11:00 a.m. - 5:00 p.m.: Bring the kids for a fun-filled day of shopping, raffles, games, and more! Support local businesses as you discover beautiful items from more than 20 vendors from across the Hudson Valley region. Try your luck with raffles for various gift baskets. Plus, the Easter Bunny will be available for free, contactless photo sessions for kids. All visitors must wear masks and are subject to contactless temperature checks. Social distancing is also required. facebook.com/events/755730271966427
Easter Cookie Decorating, City Winery Hudson Valley, 23 Factory St, Montgomery; Thursday, April 1, 6:00-8:00 p.m.:Who says Easter baskets are just for kids? Join City Winery Hudson Valley's beverage manager as she guides you through how to put a decidedly grown-up twist on all your Easter candies, including jelly beans, marshmallow Peeps, and chocolate. The venue has partnered with 3 Some Chocolates in Mount Vernon for the event. Hop in and indulge your sweet tooth! Small plates to be served, with our full menu available a la carte. Tickets must be purchased in advance. citywinery.com/newyork/easter-cookie-decorating
Candy Cocktails: Easter Edition, City Winery Hudson Valley, 23 Factory St, Montgomery; Saturday, April 3, 6:00-8:00 p.m.: Everyone's favorite event at City Winery is back. City Winery Hudson Valley has teamed up with Kirstie's Cakes to give guests a fun evening of cookie decorating with small plates and City Winery signature drinks. The event culminates with a prize for the best decorated cookie. Tickets must be purchased in advance. citywinery.com/newyork/candy-cocktails-easter-edition
Bunny Brunch, Winding Hills Golf Course, 1847 NY-17K, Montgomery; Saturday, April 3: Join the Easter Bunny for an early holiday brunch. Three seatings are available: 10:00 a.m., 12:00 p.m., and 2:00 p.m. The Easter Bunny will be hopping around, visiting each table and families will have the opportunity to take photos. Tickets must be purchased in advance. facebook.com/events/447592143350731
Easter Brunch at The Thayer Hotel, 674 Thayer Road, West Point; Sunday, April 4, 10:30 a.m. - 1:30 p.m.: Celebrate Easter Sunday with a delicious brunch at the Historic Thayer Hotel at West Point. Three seatings will be available to choose from, and the Easter Bunny will make an appearance. Social distancing required. A full non-refundable payment is required at the time of booking. Reservations required. thethayerhotel.com/easterbrunch2021
Anthony's Pier 9 Easter Brunch Buffet, 2975 US Route 9W, New Windsor; Sunday, April 4, 12:00 - 3:00 p.m.: Join Anthony's Pier 9 as it celebrates its final Easter Sunday brunch buffet. The venue's culinary team is preparing an extra-special meal, including a gourmet selection of Easter favorites such as hand-carved prime rib and roast leg of lamb along with an all-you-can-eat breakfast as dessert items. Reservations required. piernine.com/event/easter-brunch-buffet-anthonys-pier-9
As the world reopens, Orange County, N.Y., invites residents and visitors to escape, enjoy and explore its wide-open spaces. For a full list of attractions, lodging and dining options available at this time, please visit orangetourism.org/winter Additionally, a fun, free, 56-page travel guide is available for digital download at OrangeTourism.org/travel-guide.
About Orange County Tourism
Orange County Tourism, based in Goshen, N.Y., is the county's tourism headquarters and a participant in the I LOVE NY program. A comprehensive listing of area attractions, lodging and events can be found at OrangeTourism.org. Like Orange County Tourism on Facebook for the latest news on local happenings.
###
For more information, contact:
J.P. McGuirk
Focus Media, Inc.
845-576-2212