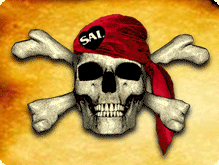 Buccaneers, bed races, and boatloads of fun at Palmyra Pirate Weekend
Palmyra, NY -
The Pirates of the Erie Canal invade the Village and Port of Palmyra, New York during the third annual Palmyra Pirate Weekend, August 7, 8, and 9, 2009, bearing a boatload of family-friendly fun for all ages.  Bed races, a Pirate Kazoo Band Parade, a window painting contest,  a visit by a vessel of the New York Naval Militia, a children's treasure hunt, sidewalk sales, and canal and museum tours are just a few of the exciting events featured in this year's celebration of Palmyra's canal connection.  The Pillage 'N the Village Bed Race Regatta returns, streaking straight through the heart of the historic Main Street business district.  Five-person pirate crews will compete head-to-head against other speedy scallywags and scoundrels for a cash prize and other awards. Pirates of all rank are welcome to enlist, with local service, community organizations, and businesses expected to round out the racing field. Race applications, information, and complete racing bed specifications are available online now at
http://www.piratesoftheeriecanal.com/
. The Pirate Kazoo Band and Parade also returns to the streets immediately preceding all the bed race action.  An official engraved Pirates of the Erie Canal Kazoo with lanyard, available for purchase at Palmyra events prior to Pirate Weekend and at the Palmyra Village Hall, is the ticket to join the fun. Bed racers will be pressed into parade service as they are escorted--and serenaded-up Main Street towards the Pillage 'N the Village starting line.  If your inner pirate is more Michelangelo than Michael Waltrip, grab your paints and brushes and enter the Pirate Window Painting Contest.  The storefront windows of Palmyra's merchants will become the canvas on Saturday, August 1 and remain a one-of-a-kind public art gallery for the week leading up to and including Pirate Weekend.  Prizes (INCLUDING $100.00 GRAND PRIZE!)  will be awarded and winners will publically acknowledge in a special ceremony on Saturday, August 8.  Again, complete contest details are available online now. For the first time, Palmyra Pirate Weekend welcomes NY Naval Militia Patrol Boat 281 (PB281) and crew to the Port of Palmyra Marina. PB281 patrols New York's waterways and lent a hand in New York City harbor in the aftermath of 9/11.  The crew will guide visitors aboard the vessel and be ready to answer any questions regarding the Naval Militia and its mission. Other highlights of Palmyra Pirate Weekend 2009 include:
*       Free Movie in the Park - The Goonies (1985, PG), Friday, Aug. 7, Dusk in the Palmyra Village Park
*       Palmyra Pirates' Bazaar at the Marina and Main Street Merchants' Sidewalk Sale, Saturday, Aug. 8 and Sunday, Aug. 9, 10:00 AM to 4:00 PM each day.
*       Erie Canal boat rides at the Port of Palmyra Marina.
*       Wine Tasting & Palmyra Farmers' Market, Saturday, Aug. 9 and Sunday, Aug. 10 at the Marina and historic Market Street.
*       Music by: Towpath Volunteers Fife & Drums and more.
*       Lock 29 Fantastic Pirate Costume Party, Saturday, Aug. 9, 9 PM, 222 E. Main Street.
*       Captain Kid's Games, featuring live zoo animals, stories, pirate games, activities, and booty for all, Sunday, Aug. 10.
*       Rum tasting, music and food at the Palmyra American Legion Post
*       Shakespeare in the Park - Palmyra Players present Much Ado About Nothing, Saturday, Aug 8 preview and Sunday, Aug. 9 full performances at 1:00PM and 5:00PM, Palmyra Village Park
*       And much, much more!
About Palmyra Pirate Weekend.
Palmyra Pirate Weekend is a family-friendly festival intended to showcase Palmyra, New York, the Queen of Canal Towns.  The visit of the
Lois McClure
to the Port of Palmyra Marina in August, 2007 was the first wind in the sails for Palmyra Pirate Weekend, yet this grassroots event grew by the hard work of some creative and talented people who have long recognized Palmyra as the perfect place to live, work, and play.