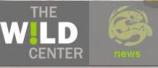 Conference specifically designed for the Adirondack building trade
Tupper Lake, N.Y.
- Almost 40 percent of all the energy used in the United States is used by buildings or by activities in those buildings, such as heat, lights, computers and other equipment. The older housing stock and cold winters in the Adirondacks mean that even more energy is wasted in this region than in others. The
Build a Greener Adirondacks (BAGA) conference on January 30th
is a day-long conference and vendor exposition designed to provide contractors with an overview of current green building practices. Topics will include understanding the
Building Envelope
, heating with
Renewable Energy,
communicating with clients about
Green
, new code guidelines to anticipate in 2014 and much more! Featured speakers include Josh Stack of Northeast Green Building Consulting and Conrad Metcalfe, Executive Director of the Building Performance Contractors Association. The $30 registration includes lunch at The Wild Center.  
GPRO Training for the Trades on January 29th
is the first step in a comprehensive national training and certificate program developed by Urban Green Council, USGBC New York that teaches the people who build, renovate and maintain buildings the principles of sustainability combined with trade-specific green construction knowledge. Skilled workers will be positioned to meet the expectations of owners and tenants who want healthier, environmentally sustainable, and energy efficient homes, offices, and businesses. The GPRO training program is designed for experienced building professionals who seek to integrate green practices into the core knowledge of his or her trade. Successful completion of an exam will result in certification. For more information and to register for both days, please visit
http://wildcenter.us7.list-manage.com/track/click?u=5116431a19bd0e8c4a8e1099b&id=e7326a7b26&e=755d77fb73
.  
# # #
Contact
: Tracey A. Legat,
tlegat@wildcenter.org