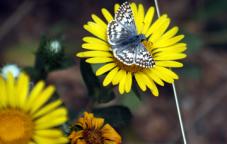 Scarsdale, N.Y. - From Saturday, June 16 to Sunday, September 2 you're invited to walk among live butterflies at the Greenburgh Nature Center's 3rd annual butterfly exhibit. For the first time, the exhibit will be held in a hoop house structure, adjacent to the Center's greenhouse, so that visitors and butterflies can feel as if they are outdoors.
When you enter the exhibit, in addition to colorful and fragrant flowering plants, you'll be greeted by native butterflies flying freely among the greenery. You'll be sure to see Monarchs, Painted Ladies and Swallowtails and other New York native butterflies fluttering from blossom to blossom in search of nourishing nectar, or you may catch sight of them resting in a shady spot to cool off or see them sipping water from a puddle.
While enjoying the beauty of these delicate creatures, you'll have an opportunity to learn about the life cycle of a butterfly from egg to caterpillar, from chrysalis to butterfly - and about the unique relationship between specific plants and butterflies. Find out how you can help butterflies by conserving or restoring butterfly habitats. We strive to increase public awareness and education about nature and animals, through exhibits such as this one. The exhibit is appropriate for all ages, FREE with Museum admission. Sponsored in part by Central Animal Hospital, Geraldine Stutz Trust, Inc., ShopRite, Sprain Brook Nursery, Westchester Greenhouses, WFAS Radio, Whole Foods Market (White Plains and Yonkers), Greenburgh Parks & Recreation, Town of Greenburgh, and Westchester County Parks.
Additional Butterfly Programs:
SAT, JULY 7, 10:30 AM AND/OR SAT, AUGUST 18, 10:30 AM - PUPPET SHOWS: BUTTERFLY - Come along with Jilly Puppets and experience the magical world of butterflies. We'll move, hum and dance along with fanciful puppets and lots of imaginative play! Due to popular demand, advanced ticket purchases are recommended - see website for details. Recommended for ages 2-7. Members $5, Non-Members $8 ($25 for family)
SUN, AUG 11, 2 pm - BOLD, BEAUTIFUL, BREATHTAKING BUTTERFLIES - From chrysalis to butterfly, come learn all about butterflies and what makes them fascinating and important to our world. Join a Nature Center naturalist amid the live butterflies in our flight house, for a tour through the life of a butterfly. Stay and make your own beautiful butterfly craft! Recommended for children 8 and younger. Members $5, Non-Members $8 ($25 for family)
SUN, August 26, 2:00 pm - FLIGHTS OF FANCY - Butterflies seem to delight everyone. Come walk among the butterflies in our newly designed Butterfly Exhibit and have an informal chat with a Nature Center naturalist, who will be on hand to answer any questions you may have about these "flying flowers." FREE with Museum admission. The Greenburgh Nature Center is a 33-acre woodland preserve with trails, a pond, gardens, and outdoor animal exhibits, including a birds-of-prey aviary.  Our indoor exhibits include a live animal museum with over 100 specimens, exhibit areas focusing on nature and the environment, a greenhouse with botanical exhibits, and a gift shop.
The mission of the Greenburgh Nature Center is to offer inspiring, hands-on environmental education experiences, to foster an appreciation of nature, and to promote sustainable practices. The Nature Center is located at 99 Dromore Road, off Central Park Avenue, in Scarsdale, NY. Parking is free, and handicapped parking is available. The Nature Center's grounds are open daily dawn to dusk throughout the year. The Center's indoor exhibits are open daily except for Fridays and a few holidays, 9:30 a.m.-4:30 p.m. on weekdays and 10 a.m.-4:30 p.m. on weekends. For more information, visit our website at www.greenburghnaturecenter.org or call 914-723-3470.
*****
What: Live Butterfly Exhibit
Where: Greenburgh Nature Center
When: June 16 - September 2 How Much: Included with general admission
Free for members and children under 2; $7 for adults, $6 for seniors/students, $5 for children ages 2-12.
For further information, call (914) 723-3470 or go to: www.greenburghnaturecenter.org.