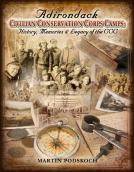 Blue Mountain Lake, N.Y. - Join the Adirondack Museum for the 2012 Cabin Fever Sunday series. The series hits the road again with the fifth program, the "Adirondack Civilian Conservation Corps: History, Memories and Legacy of the CCC." The program will held in North Creek, N.Y. on Sunday, March 11, 2012.
The Civilian Conservation Corps (CCC) was a public works program that operated from 1933 to 1942 as part of Franklin D. Roosevelt's New Deal. In the Adirondacks, enrollees built trails, roads, campsites and dams, they stocked fish, built and maintained fire towers, observers' cabins and telephone lines, fought fires, and planted millions of trees. Learn about camp life and Adirondack projects with author Marty Podskock.
This program will be held at the Tannery Pond Community Center, North Creek, N.Y., and will begin at 1:30 p.m. Free to members and children; $5 for non-members. For additional information, please call (518) 352-7311, ext. 128 or visit http://www.adirondackmuseum.org/.
Marty Podskoch, a retired reading teacher, is the author of three other books: Fire Towers of the Catskills: Their History and Lore (2000); Adirondack Fire Towers: Their History and Lore, the Southern Districts (2003); Adirondack Fire Towers: Their History and Lore, the Northern Districts (2005). While gathering stories of the forest rangers and fire tower observers, he became fascinated with other aspects of the Adirondacks such as the logging and mining industries, the individualistic men who guided sportsmen, the hotels they stayed in, the animals, railroads, etc. Marty and his wife, Lynn, live in Colchester, CT where they are close to their family and two granddaughters, Kira and Lydia. He enjoys hiking in the nearby Salmon River Forest and is doing research on the CCC camps of the Adirondacks and Connecticut.  For more information, visit http://www.cccstories.com/index.html.
Cabin Fever Sunday programs are sponsored by the New York Council for the Humanities, and the Glenn and Carol Pearsall Adirondack Foundation dedicated to improving the quality of life for year-round residents of the Adirondack Park: http://www.pearsallfoundation.org/.
The Adirondack Museum, accredited by the American Association of Museums, shares the history and culture of the Adirondack region in 22 exhibits on a 32-acre campus in the Central Adirondacks.  The museum is supported in part by public funds from the New York State Council on the Arts, a State Agency. For additional information, visit http://www.adirondackmuseum.org/ or call (518) 352-7311.
###
Contact:
Kate Moore, Marketing Manager
(518) 352-7311, ext. 109