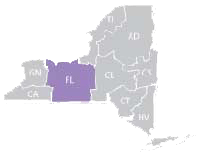 Tioga County, N.Y.
- The Tourism Directors in the 14 county Finger Lakes vacation region are planning to produce an "I Love Fresh Air" magazine for delivery by July 18 and is looking for freelance writers.  Below is the description of this piece of the Outdoor program: A lifestyle magazine will be created to showcase the outdoor recreational opportunities and healthy lifestyles in the Finger Lakes. The magazine will include editorial written by Finger Lakes contributors from all over the region. The contributors will be profiled in the magazine to add credibility to the sources. The articles will cover four seasons of outdoors in the Finger Lakes, and be written on topic as opposed to geography. The final magazine will be 32 pages plus a cover. They are looking for freelance writers who will become their contributors for the magazine. The writers will receive a stipend for their contribution and recognition in the magazine with a photo and personal bio (personal not professional). They are looking for writers who live in the Finger Lakes region and who can write a story about the outdoor experiences there, and will assign stories based on the experience and location of the writer. An outline of the story content is below. They are looking for 12 different writers. Fresh Air in the Water
Boating/Sailing
Active water (paddling, canoeing, swimming)
Fishing (with a call-out about ice fishing)
Cruising on the water (Erie Canal, Lake dinner cruises)
Fresh Air in the Sky
Soaring/Ballooning
Edgy Sky - skydiving, zip lines, rope courses
Fresh Air on Land
Competitions (Iron Man, triathlons, bike races etc.)
Trails (hike, bike, horseback riding) with a call out about GeoCaching
Golf
Parks (with call out for hunting & camping)
Fresh Air in Winter
Winter Trails (skiing (all types), snowboarding, snowshoeing, snowmobiling)
Winter Family Fun (family slopes, sledding, sleigh rides, ice skating)
The writers will be vetted over the next two weeks, and organizers plan to have writers and stories assigned by April 15. The writer will be asked to submit a synopsis of their story one-week after receiving the assignment with first drafts due May 20. If you are a freelance writer and think you would be interested in this project, please email Stella Reschke at
stella@visittioga.com
. She will need your name, phone number, email address and samples if you have them.
CONTACT
: Stella Reschke, Director Tioga County Tourism
stella@visittioga.com
  607-687-7440