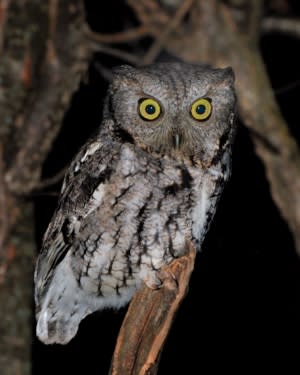 Cornwall, NY -  The Hudson Highlands Nature Museum is excited to once again offer its popular Owl Prowl programs. This year, choose from two sessions on Saturday, February 17 from 7 p.m. to 9 p.m. at the Wildlife Education Center, 25 Boulevard, Cornwall-on-Hudson, or on Sunday, February 18 from 7 p.m. to 9 p.m. at the Outdoor Discovery Center, on Muser drive, across from 174 Angola Rd, Cornwall.
Owls are unique creatures have amazed and mystified humans for thousands of years. Join Environmental Educators for the evening to learn about the species of owls that are native to our region and their incredible adaptations. Each Owl Prowl will begin with an appearance by of one of our owl ambassadors, so you can see an owl up close and discover their fascinating characteristics. Then set out on a guided after-dark walk, during which an educator will use a calling device to try and coax owls into the area for you to hear. According to Educator Carl Heitmuller "owls have adapted in the most amazing ways.
These stealthy predators of the night are probably in your backyard removing rodents and other critters while you sleep!" In the past, this program has attracted Eastern Screech Owls and Barred Owls. For adults and families with children ages 7 and up.  Admission: Museum Members $8 Adults & Children 7 – 17. Not-yet-Members: $12 Adults & Children 7 – 17. Prepaid registration is required and no walk-ins will be admitted. For more information and online registration, visit hhnm.org or call 845-534-5506, ext. 204.
###
Photo Caption: Register for an Owl Prowl at the Hudson Highlands Nature Museum on Saturday, February 17 from 7 p.m. to 9 p.m. at the Wildlife Education Center, or on Sunday, February 18 from 7 p.m. to 9 p.m. at the Outdoor Discovery Center.  Photo by Jim Ridley
For additional information contact:
Joanna Reisner, Marketing Associate
Hudson Highlands Nature Museum
845-534-5506, ext. 212