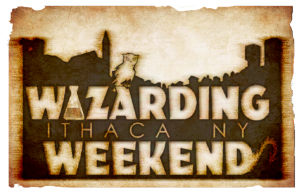 Ithaca, N.Y. - Ithacans, Mystics and Visitors - grab your fantastical garb and get ready for Ithaca's Fourth Annual Wizarding Weekend on October 26-28. This unique festival of science and fantasy connects the community of one of New York's most beautiful cities with the worldwide magical community through interactive exhibits, themed activities, exclusive events, special guests and more!
Wand dueling, human chess, slime potion making, Feed the Dragons and Wheel of Magic games, living portraits, and Quidditch practices and matches are among the returning favorites. This year there'll be musical performances by Tonks and the Aurors, Time Crash, Ashley Trix and the WZRDS, The Blibbering Humdingers, Fall Creek Brass Band, Hawthorn, and Holly, as well as themed performances by Moreland the Magician, Christopher Strange Witch Doctor, Zajal the Sugar Plum Fairy and Friends, LilySilly Puppets, and BubbleMania as well as interactive exhibits by the Cornell Raptor Program, Ithaca Physics Bus, and Cayuga Nature Center.
Friday, October 26, 2018 kicks off the weekend of festivities with the Wizarding Weekend Pumpkin Carving Contest and Silent Auction. Carvers must use pumpkins, gourds and accessories to create their carved masterpiece in under 120 minutes. Spectators help their favorite carvers by voting for People's Choice and bidding on their favorite pumpkins in the silent auction. Revelers also get into the spirit of the event at the City of Magic Ball, a magical gala event with dancing, cash bar and special guests. Tickets are $40 each, available at WizardingWeekend.com .
On Saturday, October 27 and Sunday October 28, 2018 the heart of the festival begins at 10a.m. when attendees can take part in the newest aspect of the festival, special guest appearances and panels. Current literary guests include NY Times Best Selling Author Carrie Vaughn (author of the Kitty Norville Series) and Rose Catherine Khan (international fantasy illustrator and author of the Centernia Series). Guest entertainers include: actress Holly Marie Combs (Charmed), actress Scarlett Byrne (The Vampire Diaries, Falling Skies and Harry Potter), actress Erica Cerra (Supernatural, The 100, Eureka, Battlestar Galactica) and actor J.G. Hertzler (Star Trek: Deep Space Nine). Attendees can purchase autographs, selfies and professional photo ops with select special guests or meet authors for book signings on Saturday and Sunday of the festival. Entertainment guests will meet and greet at the City of Magic Ball, Spirited Spirits and the Cocktails & Cosplayers events.
Another new addition to this year's festival is the fruition of Ithaca's own School of Magic, GorgeKeep, held at the New Roots Charter School. To earn admittance to the school, students from all schools of magic are invited to demonstrate their magical skills through the GorgeKeep Guardian Quest. Four quest activities, found throughout the festival, are appropriate for kids and adults, require team effort to complete, and are inspired by the school's mythical guardians. At the completion of the quests, GorgeKeep students receive a festival exclusive journal to record their magical discoveries at New Roots Charter School.
The popular Magical Passport program has been expanded for 2018 and attendees can choose among levels that include a thirteen-stop, self-guided Potions Crawl, Magical Artifact Hunt with prizes and discount activity tickets, an exclusive festival T-shirt and special access to speaker panels and special guest Q&A sessions.
While festival admission is free, attendees are encouraged to enhance their experience with tickets to the City of Magic Ball on Friday Night, Mystic Arts Breakfast and Cocktails & Cosplayers at Hotel Ithaca, Spirited Spirits at Coltivare, Magical Passports and Special Guest Experiences (selfies, autographs and professional photo ops) as the proceeds from these festival add-ons offset festival costs and benefit non profit organizations that participate in the festival itself. Organizations participating in the 2018 festival include the Cayuga Chamber Orchestra, Cayuga Nature Center, The Cherry Arts Center, Extra Life Syracuse Guild, Family Reading Partnership, Family and Children's Services, GIAC, Girl Scouts of NYPenn, INHS, Ithaca Physics Bus, Kingdom of Novitas, Pathways, Southside
Community Center and more.
Wizarding Weekend is made possible by the hard work of over 200 volunteers and funding from a Tompkins County Strategic Tourism Grant, funds from the sale of activity and exclusive event tickets and sponsorship by Ehrhart Energy, Tompkins Trust Company, CFCU Community Credit Union, Ithaca Marriott Downtown on the Commons, Ithaca Voice, Tompkins Weekly, Cayuga Radio Group, Breathe Fashion,and Lime Bikes.
You'll find lots more information, details and tickets at WizardingWeekend.com .
###
Contact:
Darlynne Overbaugh
607.592.4729
ithacaismagic@gmail.com