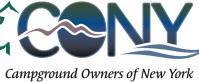 Pittsford, N.Y.
- Campground Owners of New York (CONY), a trade association of privately owned campgrounds in New York State, has initiated its first-ever association-wide fundraiser benefiting Camp Good Days and Special Times, a New York State-based organization providing camping experiences to children with cancer. Member campgrounds and RV Parks across New York are participating in this fundraiser. All proceeds raised by CONY will be donated directly to Camp Good Days and Special Times at a ceremony to be held at CONY's annual Exposition and Trade Show in November. According to CONY's Marketing & Communications Director Suzanne Bixby, CONY members are raising funds in a variety of ways, big and small. "All throughout the summer camping season, CONY campgrounds and RV parks are displaying change-collection jars, selling t-shirts and paper balloons, and hosting fundraising events such as raffles, dances, barbeques, walks, and more," Bixby said. "We think this is going to be a positive kickoff to an annual charitable activity by CONY, and we're pleased to start our good works by helping a great New York State-based charity like Camp Good Days."  Extraordinary efforts are already being reported, Bixby notes. "The owners of Kayuta Lake Campground in Forestport, NY notified us that they had raised $1,500 on June 2
nd
with a special hair-shaving event, with more activities planned. And that's only the very beginning of a whole summer of fundraising all across the state!" "We are thrilled and so grateful that CONY has selected Camp Good Days and Special Times as the recipient of their fundraising efforts this summer season," said Gary Mervis, Chairman and Founder of Camp Good Days.  "So as not to place any additional financial burden on those families served, all of the programs and services we provide, to so many children and families whose lives have been touched by cancer are offered free of charge for the participants."  Mervis continues, "We are only able to continue this because of the generosity of so many, like all those who are a part of CONY and all those who will support their many fundraising efforts this summer."  Matt Anderson, a member of CONY's board of directors whose family owns Camp Chautauqua in western New York, was instrumental in getting this fundraising event started. "This is a very exciting event for CONY," Anderson said. "We're taking part in something so important - helping kids go to camp to take their minds of their illness and afflictions. As we go through life every day dealing with problems, these precious children try to keep life!" For more information about CONY's summer fundraiser efforts for Camp Good Days and Special Times, contact the CONY office at (585) 586-4360 or info@nycampgrounds.com. For more information about Camp Good Days and Special Times, go to
http://www.campgooddays.org/
.
Campground Owners of New York, founded in 1963, is an association dedicated to the promotion, growth, improvement and development of privately owned campgrounds in New York State. More information about the association and its campgrounds - including a free camping directory - is available at http://www.nycampgrounds.com/.
###
Contact
: Donald G. Bennett, Jr., President and CEO, Campground Owners of New York
don@nycampgrounds.com
585-586-4360 (office)