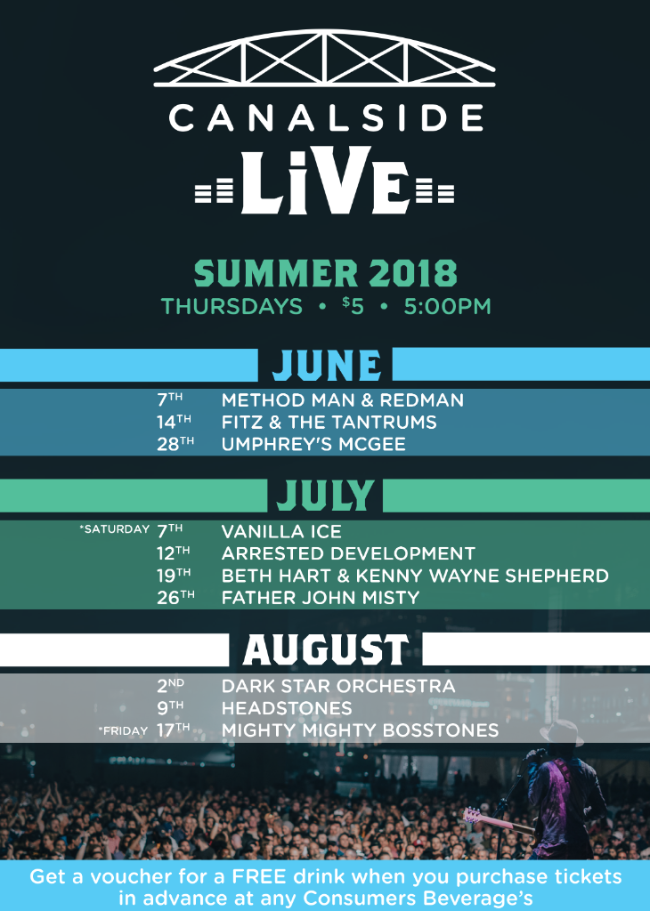 "CANALSIDE LIVE" SUMMER CONCERT SERIES ANNOUNCED
Tickets go on sale 5/10 at 3:30 p.m.
 

(Buffalo, N.Y.)—Canalside Management Group (CMG), today announced the line-up for its 2018 Summer Concert Series, "Canalside Live."
 
The "Canalside Live" series, which starts on Thursday, June 7 and ends Friday, August 17, will take place at Canalside's Central Wharf. This year's lineup features eight (8) Thursday concerts, one (1) Saturday night concert in July and a Friday night finale on August 17.
 

The "Canalside Live" line-up features:

"This year we focused our efforts on creating a Canalside Live lineup that offers not only variety but an atmosphere for a great night out that everyone can enjoy, with acts in Rock, Hip Hop, and Blues," said Matt LaSota, Canalside's General Manager. "We are keeping with the traditional Thursday concerts that have been a staple of downtown Buffalo summers for decades, and mixing in two additional shows on Saturday, July 7 and Friday, August 17. For only $5, Western New Yorkers can enjoy a premier concert experience right on our waterfront."

Admission to all Canalside Live concerts will be $5, just as last year, anyone who purchases a pre-sale ticket will also receive a voucher for redemption of a complimentary beer, wine, soda or water. VIP tickets will be available for $35 and include: private entrance into the VIP Honda Pavilion, two complimentary drink coupons (good for beer, wine soda, or water), light appetizers provided by The Dish at Canalside, private bathrooms, access to the front of the stage viewing area, and a souvenir "Canalside Live" cup. The VIP Honda Pavilion is limited to concert goers 21-years-of-age or older. VIP tickets can be purchased on Eventbrite.com and at the Canalside Information Kiosk on the boardwalk. VIP tickets for many of the concerts sold out last year so fans are encouraged to purchase VIP tickets in advance.
 
Canalside has also updated the safety and security procedures for all Canalside Live concerts including a new bag policy. For more information on this year's lineup and all security procedures, please visit www.canalsidebuffalo.com/concerts.

Canalside is also excited to kick-off its Canalside Live 2018 contest, LOVING SUMMER! WYRK, WBLK, MIX 96, JACK FM and Labatt Blue are making sure you're LOVING SUMMER this year by giving you a chance to win a brand new 2018 Harris Pontoon Boat thanks to Anchor Marine!  Plus each week this awesome Pontoon Boat will be docked front and center at Canalside in Downtown Buffalo for all the concerts.  Each week 2 lucky people and their guests will win VIP tickets to watch the show!  All you have to do is go to any participating retailers to enter to win!
"Our mission is to provide a customer experience that makes Canalside the premier music venue in Western New York," said Jon Dandes, President of Be Our Guest, Ltd/CMG. "Last year we introduced a $5 admission ticket with the goal to provide a safe and fun experience. This year we have enhanced the talent level to ensure that Canalside Live is the must-see concert series of the summer!"
 
CMG is also continuing the Canalside Cares Program, which provides a limited number of free tickets to each concert. In 2017, more than 2,000 tickets were distributed to over 100 different organizations throughout Western New York. The United Way of Erie County will receive a limited amount of tickets to each show to distribute to a program of its choice. 
 
Tickets for all shows go on sale May, 10 at 3:30 p.m. Tickets are available on Eventbrite.com, at all 17 Western New York Consumer's Beverages locations, and at the Information Kiosk located on the Boardwalk at Canalside. All tickets purchased at Consumer's and at the Boardwalk include a complimentary beverage voucher for redemption at the concert.

"Once again we give Western New Yorkers 17 different locations to purchase a ticket to a Canalside Live concert and receive a free beverage! The ease of purchasing a ticket at any Consumer Beverages location will provide concertgoers the opportunity to guarantee their space at each show throughout the concert season," continued LaSota.

"Cool music on a hot summer night is a Canalside tradition that gets better every year," said Robert Gioia, ECHDC board chairman. "This summer's lineup has a wide variety of acts that will draw people to the waterfront time and again. I invite everyone to come enjoy the music, the refreshments, and the spectacular sunsets."

A special thanks to the following partners and sponsors: Erie Canal Harbor Development Corporation, City of Buffalo, Labatt USA, Try-It Distributing, Buffalocal, Consumer's Beverages, Empire Merchants, Coca-Cola, M.P. Carroll Hardwood, Honda, and Eventbrite.
Clinton's Dish kicks off the summer with a soft opening this weekend, Saturday and Sunday from 12P-8P both days. Regular hours will begin on Friday, May 25th.  Open daily – 11A – Sunset.
About Canalside
Canalside is a growing regional destination and entertainment district, situated on 21 historic acres along downtown Buffalo's emerging waterfront on the Buffalo River. Canalside earns its name from its storied past when the Erie Canal Harbor was built in 1825 as the western terminus of the Erie Canal. Until recently, the land was barren and inaccessible, but the area has been reclaimed by the state's Erie Canal Harbor Development Corporation and developed with millions of dollars in public and private investment. With more than 1,000 yearly events and 1.5 million annual visitors, Canalside is fast becoming the go-to place for in- and out-of-towners of all ages to learn, play and relax.

About Canalside Management Group
The Canalside Management Group is the event management team of Be Our Guest, LTD, a subsidiary of Rich Products Corporation. The Canalside Management Group is committed to the world-class management and execution of daily programming and events at Buffalo's Canalside. Working collaboratively with our government and public partners, our mission is to provide the WNY community with public access and creative programming that maximizes this unique space on Buffalo's waterfront.