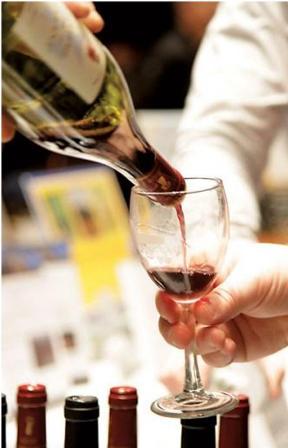 Cooking Show Dinner by Angelo Mazzone and Family!
The Capital Region Wine Festival at Proctors Theatre, "Romancing the Grape", February 8 - 9
Schenectady, N.Y.
- Raise your glass at the Capital Region Wine Festival at Proctors Theatre, the annual tribute to the noblest of fruits, the grape! Don't miss the Grand Opening on Friday evening, featuring wine, food and fun on the Apkarian Mainstage. The Grand Tasting on Saturday is an exciting and very popular fundraising event with an international selection of wines as well as foods from the Capital Region and beyond. Treat yourself to the 100 Club and gain access to exclusive reserve wines.
Grand Opening Cooking Show Dinner by Angelo Mazzone and Family!
• Fri, Feb 8 • 6pm
Join us on the Apkarian Mainstage as we kick-off the wine festival with an unforgettable evening! Watch Angelo Mazzone prepare a traditional four-course Italian meal with the help of his son Michael. Michael is no ordinary assistant. He's an accomplished Opera singer from New York City. Rumor has it cooking makes him burst into song. Donna Purnomo
(Yono's)
will make a guest appearance to prepare dessert. We're hoping she'll sing along but you might need to encourage her! All this and wine too!!
The Grand Tasting • 1 - 4 pm -
Sip fine wines and sample countless culinary offerings by our areas great restaurants. The Grand Tasting draws a huge crowd of enthusiastic wine lovers. Add an exclusive Reserve Wines package to your afternoon - limited to one hundred attendees.  All this followed by a one of a kind LIVE Auction!
Romancing the Grape 100 Club • 3 pm -
For the first 100 guests that purchase the $100 Grand Tasting/100 Club tickets: enjoy our exclusive reception and taste high-end reserve wines and delectable passed hors d'oevres prepared just for you! Gain access to preview the Live Auction wines & items. "...wine, a  constant proof that God loves us, and loves to see us happy." - Benjamin Franklin Don't miss this great festival sure to be marked indelibly on any wine lover's calendar.
You must be 21 years old or older to attend.
For more information please contact Leesa Perazzo, Special Events/Group Sales Manager at 518-382-3884 x 187 or
lperazzo@proctors.org
Ticket Prices: $55 per person, $100 per person
(includes the exclusive 100 Club reception)
, Designated Driver $25
###