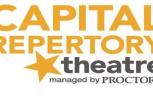 Five Plays & More Await Subscribers in 2012 - 2013
Season's NEXT ACT! NEW PLAY SUMMIT with Proctors intensifies focus on new plays, musicals, subscriber participation
Albany, N.Y.
- For theatergoers throughout New York State's Capital Region, a good thing gets even better this week as Albany's esteemed Capital Repertory Theatre announces its 2012 - 2013 season -- and a new play development collaborative effort with Proctors, the Schenectady-based arts and entertainment complex. Ticket buyers can expect such crowd pleasers as:
ELLA, the story of Ella Fitzgerald,
a brand new adaptation with bonus features of Jane Austen's PRIDE @ PREJUDICE (the theatre's Classics on Stage production),
David Mamet's searing drama, RACE,
the premiere of six Tony Award® winning RED, a portrait of expressionistic artist, Mark Rothko
an as yet-to-be-named musical. 
The new season also offers a special holiday engagement of THIS WONDERFUL LIFE!, an adaptation of the Frank Capra film, It's A Wonderful Life, in a tour de force performance by one actor.
And, the Next Act! New Play Summit.
Wild About the New Season
According to Maggie Mancinelli-Cahill, Capital Rep's Producing Artistic Director, the new season reflects months of deliberation and negotiations, all in an effort to further raise the bar of excellence that has become the hallmark of production at the theatre.   "I am wild about the 2012-13 season," she said at a recent programming meeting. "We've waited a long time to bring
Ella
to our audiences and it thrills me to have Tina Fabrique on our stage as Ella Fitzgerald at long last! She is a marvel in this role. "My special love is literature on stage and the new version of
Pride @ Prejudice
brings both a respect for Jane Austen and a delightfully modern perspective to the material.  "And, I'm not sure it gets better than having two compelling and highly engaging works such as David Mamet's
Race,
which uses language to reveal our complex responses to racial issues in America and Josh Logan's
Red,
which confronts the values of the arts and entertainment culture --in one season!" In addition, Mancinelli-Cahill said that Capital Rep will be announcing a musical for next spring "from among several new musical projects we're currently working on, while exploring some rarely-produced musicals for possible production as well. Whatever we choose will be delivered in a signature way just for our space and our patrons." "Our holiday show,
This Wonderful Life,
makes me smile because I love the Capra film and this American morality tale about how a good man recognizes that his life - with all its hardships - has been worth it.  Goodness is worth it - and that is a tale worth telling! "
 NEXT ACT - Duo with Proctors
Further raising the bar in its goal to build on its trademark
Seriously Good Theatre
, Capital Rep has teamed with managing partner Proctors to launch a new initiative,
NEXT ACT: NEW PLAY SUMMIT.
The three-day event will feature three play readings and special events focusing on the development of new plays and musicals.
NEXT ACT!
will take place at Capital Rep and the GE Theatre at Proctors as both organizations combine their resources to give Capital Region residents a first peek at new work being considered for future production. Proctors CEO Philip Morris, who also serves as Capital Rep's Chief Administrative Officer, is an unabashed champion of regional professional theatre and the development of new work, "Support and sponsorship for regional theatre is critical to the vitality of the extended State Capital region and the neighboring communities that comprise it," he said. Morris said that he appreciates "the balance between crowd pleasing theatre with an array of shows for every taste and affordability, which makes theatre accessible to the widest possible audience in the region. Just as important is the fact that with the top-tier roster of new shows in its new season, Capital Rep has been able to build on recent successes to create an exciting new season -- without any increase in costs to subscriptions." He readily compliments Ms. Mancinelli-Cahill.  "Maggie is to be commended," he said, "And I know that all patrons of the theatre respect her efforts on our behalf and on behalf of the future and vitality of theatre in the region."
Close-Up on the New Season
The season begins on July 20 with
Ella,
the story of Ella Fitzgerald.  This show features an acclaimed performance by Broadway veteran Tina Fabrique as Ella Fitzgerald. The evening weaves the story of the singer's rise to fame with many of her famous song renditions, including,
A Tisket, A Tasket, That Old Black Magic, How High the Moon and They Can't Take That Away from Me,
to name only a few of 14 signature songs in the musical. Tina Fabrique has toured this show throughout the United States, breaking box office records with her celebrated portrayal that
Variety
calls, "a must see performance."  The 2012 - 2013 season continues in the fall with Daniel Elihu's delightful adaptation of Jane Austen's
Pride @ Prejudice.
This show is being produced in association with Chester Theatre Company, which premiered the work in summer 2010.  "I am so happy to be working with my friend and colleague, Byam Stevens, the Artistic Director of Chester Theatre Company and our wonderful playwright, Daniel, in this updated draft of the play," said Mancinelli-Cahill. "I loved the show at Chester and have had a great time refining the script for our fall production here at Capital Rep." In the spirit of true collaboration, Capital Rep and Proctors will join forces to produce a three-day exploration of new work,
Next Act,
to take place November 2-4, 2012. Over the course of three days, Capital Rep and Proctors will harness their resources to produce staged readings of two plays and a staged reading of a musical. These works will be under consideration for further development and production at either theatre. The festivities also will feature several opportunities to meet the playwrights and composers and get an insider's view of the play/musical development process. Tickets are limited and available first to Capital Rep subscribers. Next in the line up is the special holiday engagement of
This Wonderful Life
, which features one actor in a
tour de force
performance, telling the story of George Bailey and all of the characters in Frank Capra's film,
It's A Wonderful Life.
"Part of the joy of live theatre is experiencing the skill and perseverance of a solo performer assailing a role that is difficult and inspiring," says Mancinelli-Cahill, "and this is certainly the case of
This Wonderful Life
. We will experience the wonderful story and the incredible energy and talent of one actor delivering it all for us in 80 minutes!"  David Mamet's gripping drama,
Race
follows in January in a production directed by Mancinelli-Cahill, who "likes the play because the characters dare to say what we only think. They are not politically-correct and Mamet's language brew creates a tension that asks all of us to consider who we are underneath our prejudice." The stakes in this behind-the-scenes courtroom drama begin when a rich, white executive accused of raping a black woman retains the services of two lawyers - one white, one African American and their African American legal assistant. The ensuing gamesmanship catapults the law, sexual and racial politics to spin out of control, as all of the players reveal their values and deepest fears against the backdrop of American Justice. Spring 2013 will bring a production of a musical, the title of which is yet-to-be announced. Under consideration are a variety of new musical projects currently being worked on with Capital Rep, as well as explorations of rarely produced musicals that could be produced in innovative ways. "We have found that our audiences enjoy our reinventions of musicals such as
My Fair Lady, The Dead
and
Man of La Mancha,"
says Mancinelli-Cahill. "Bringing new life to works that are rarely produced is certainly a part of our mission - as well as producing new work.  Either way, our patrons are going to get a refreshing experience that cannot be found anywhere else." In April, Capital Rep will bring to audiences the regional premiere of the six Tony-Award winning play by Josh Logan,
Red¸
a portrait of expressionistic artist, Mark Rothko and his anguished attempt to deliver a series of murals to the Four Seasons Restaurants. This remarkable play chronicles the relationship of Rothko and his new assistant as they evolve creating canvases on stage before our eyes that eventually will either define or destroy the master painter. Mancinelli-Cahill elaborates: "This is a play about the conflict between being true to oneself or being commercially successful as an artist.  It is a universal struggle of anyone who has ever had to make a choice between his/her own beliefs and compromising for a greater good.  Neither side is completely right or wrong - and that makes for great drama!"
Subscriptions: New and Renewals in February
Subscription renewals will be available on February 6.New subscriptions will go on sale on March 19. Single tickets for
Ella
will be available in May. For information about shows, subscriptions or tickets, call Tickets by Proctors at (518) 445-SHOW.
Season in a Nutshell
July 20-August 12, 2012
ELLA
Conceived By Rob Ruggiero and Dyke Garrison Book by Jeffrey Hatcher Starring Tina Fabrique It's 1966 and the first lady of song ELLA FITZGERALD, performed by the incomparable Broadway veteran Tina Fabrique, is preparing for one of the most important concerts of her career. Before the night is over she will jam with Louis Armstrong, reflect on her life and love of music and bring the house down with soulful song, swinging scat and scintillating hits like 
"A Tisket, A Tasket," "How High the Moon," "That Old Black Magic"
 and 
"They Can't Take That Away From Me". 
Come see the show that Variety calls A MUST SEE PERFORMANCE!
September 28 - October 28, 2012
Classics on Stage
PRIDE @PREJUDICE
Adapted, edited and compiled by Daniel Elihu Kramer from the novel by  Jane Austen Regional Premiere Romance! True Love! And all of the twists and turns of Jane Austen's most popular love story fill the stage in this delightful new adaptation.  Five acclaimed actors bring Elizabeth Bennett, Mr. Darcy and all of the characters of Jane Austen's classic romance to life with the author's actual words, but the fourth wall shatters when the cast Googles, Tweets and engages the audience. Jane Austen herself may pay a visit and patrons might get to ask her a question while falling in love all over again with the eligible young ladies of the Bennett household and their long line of suitors!  This play is will feature the critically acclaimed cast and director of The Chester Theatre Company's production of Summer 2010.  
January 11 - February 10, 2013
RACE
By David Mamet Regional Premiere Sex, guilt and bold accusations permeate this provocative new tale from multiple Award-winning playwright David Mamet.  This gripping play tackles America's most controversial topic with the brilliant language that only Mamet can bring to the stage. Two lawyers find themselves defending a wealthy white executive charged with raping a black woman and when a new legal assistant gets involved in the case, the opinions that boil beneath explode to the surface.  When David Mamet turns the spotlight on what we think but can't say, dangerous truths are revealed and no punches are spared. Contains adult language.  "Race, like sex, is a subject on which it is near impossible to tell the truth."  - David Mamet.
March 1 - March 30, 2013  (no performance on Sunday, March 31 - Easter)
TBA - THIS WILL BE A MUSICAL
We want to leave room in the season for an exciting show - perfect for our audiences!  We are considering a variety of titles sure to cure the winter blues. Stay Tuned!
April 19 - May 19, 2013  
RED
By John Logan Raw and electrifying, RED
,
John Logan's sizzling play ignites the worlds of art and commerce.  Iconoclastic Mark Rothko, the misanthropic abstract-expressionist painter, confronts his decision to accept a lucrative commercial commission.  Extolling the virtues of his art as "expressing the big emotions - tragedy, ecstasy, and doom," Rothko drills his new assistant about the dangers of selling out and as they work together, the roles of student and teacher reverse, forcing Rothko to face his own demons about reality and his ultimate place in the pantheon of great artists.  Winner of Drama Desk Award for Outstanding Play and 6 Tony Awards®, including Best Play 2010.
OFF SUBSCRIPTION:
BUT SUBSCRIBERS CAN BUY TICKETS WITH THEIR RENEWAL!
November 23 - December 16
THIS WONDERFUL LIFE 
Adapted by Steve Murray (and Mark Setlock) Regional Premiere All the pleasure of Frank Capra's classic movie - in only 70 minutes!  Based on the film, here's the story of George Bailey, the good guy who comes to see himself as others do while confronting terrible hardship at the hand of Mr. Potter.  You'll meet the whole gang - Jimmy Stewart's George Bailey, Donna Reed's Mary Hatch, town floozy Violet Bick and of course, Clarence, the endearing angel who needs wings. "It's A Wonderful Life" is an annual tradition, so bring the whole family to experience the iconic residents of Bedford Falls portrayed in a creative, tour de force performance!
CAPITAL REP AND PROCTOR'S COLLABORATION!
NEXT ACT!  NEW PLAY SUMMIT 
November 2, 3, 4 Subscribers get first chance to reserve limited tickets! This project represents the first true collaboration between Proctors & Capital Rep (acting together as producers?) as "producers." Harnessing the strengths of both organizations, patrons will get the first look at what may become future productions! 
NEXT ACT
features three play readings - two plays and one musical -- each affording opportunities to meet the artists. A great chance to be a real insider, meet the creative sources behind the curtain and to become part of the process by weighing in with your responses.  NEXT ACT performances will take place at both Capital Rep and in the GE Theatre at Proctors.  Subscribers will get first dibs on the chance to buy tickets -- which will be limited. All events will be $15/each and all include refreshments.  Play titles to be announced.  
NYSCA Support
Capital Repertory Theatre receives general support from the New York State Council on the Arts (NYSCA), celebrating 50 years of building strong, creative communities in New York State's 62 counties.
###
ABOUT CAPITAL REP
Capital Repertory Theatre has a rich, local history of excellent entertainment and strong community relationships. Established in 1981, it came into existence through the dedication and perseverance of a group of Albany business, community and civic leaders. Donated labor, materials and expertise transformed the Grand Cash Market, an abandoned supermarket at 111 North Pearl Street, into what was to become the home of Albany's first professional resident theatre. Over the past 30 years, the facility on North Pearl Street has been renovated several times, and now includes a 286-seat theatre, a café space, a costume-making shop, and a rehearsal hall. In addition to returning more than 83% of its operating budget directly back to the local community, Capital Rep brings vitality and commerce to downtown in the form of more than 75,000 diners, shoppers, and tourists, serving as an economic engine in the entertainment district on North Pearl Street. In all programs and services, Capital Repertory Theatre reflects its mission by embracing its community as a source of inspiration. Capital Rep embraces cast, crew and audiences from every background to expand the horizons of thought and understanding of the human condition through the power of theatre. Capital Repertory Theatre is a professional, not-for-profit cultural organization, and the only member of the League of Resident Theatres (LORT) within fourteen counties of the Upper Hudson-Mohawk Valley. As a proud member of LORT, an esteemed organization that promotes the positive impact of theatres in the arts and communities nationwide, Capital Rep is able to create excellent opportunities for both up-and-coming and seasoned theatre professionals. Today, these affiliated theatres provide artists with a support system for developing new work, as well as reviving classics and perennial favorites. LORT members strive to provide hundreds of thousands of people with the opportunity to experience the highest caliber of performance right in their own communities. 
For more information about LORT, please visit http://www.lort.org/
Capital Rep has a proud history of bringing 20 world premiere plays into the American theatrical canon, but that is only the tip of the iceberg when it comes to producing new work. The production is the end result of what are often years of work with a writer and creative team. This year, working with artistic colleagues at Proctors and in New York, we resolve to develop a pathway - a process -- that will nurture work and provide our community with a sense of pride of ownership for what we create.
2012 - 2013 Season at a Glance
ELLA, the legend of Ella Fitzgerald
           July 20 - August 12, 2012
PRIDE@PREJUDICE
 (Classics on Stage)  September 28 - October 28, 2012
RACE
                                                            January 11 - February 10, 2013
TBA - MUSICAL
                                           March 1 - March 30, 2013
RED                           
                                    April 19- May 19, 2013 
Plus!
NEXT ACT! - NEW PLAY SUMMIT
                        November 2, 3, 4, 2012
And a very special holiday engagement:
THIS WONDERFUL LIFE
!                            November 23-December 16, 2012