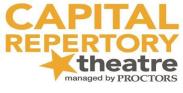 An original work created by 15 area teens
Albany, N.Y.
- Capital Repertory Theatre announces three free performances of
ME: THE MUSICAL,
an original work written by fifteen area teens who make up the Summer Theatre At the Rep (STAR) program. The 45-minute music-infused shows will take place Friday, August 3 at 4PM, Saturday, August 4 at 11AM and Sunday August 5 at 6PM - all at Capital Rep, 111 N. Pearl Street, Albany, NY. Now in its fifteenth year, STAR has provided hundreds of area teens with opportunities to create a new work from research and personal experience that is premiered on the Capital Rep stage at the end of the intensive 5-week program. Previous work has explored family histories, the environment, an overview of the millennium, art and technology, mythology, the 400
th
Anniversary of the Hudson River, Shakespeare and social networking. "The young people in STAR never cease to amaze me," says Margaret Hall, Program Coordinator. " As the weeks unfold, each member of STAR becomes better equipped to articulate a personal point of view about the world that is both unique and thoughtful. Working with these young people", she adds, "gives me hope for our future as a community and as a country. I'm also reminded about the power of collaboration that is the very crux of theatre. What starts out as 15 individuals transforms into a cohesive whole that is truly greater than the sum of its parts." This year's show, ME: THE MUSICAL is a romp that celebrates diversity and encourages understanding and tolerance. Michael G. Burns, who directs the show and guides the creation process, also serves as the Artistic Director for MOPCO, the Capital Region's acclaimed improv troupe. Says Burns, "Paving the way for young people to understand themselves as true creative resources is really what STAR is all about. We strive to make an environment that is a safe place that allows for expression, failure -- and wild success. Working together, we harness a lot of creative energy that can make a play and solve the problems of the world!"  Other members of the STAR artistic faculty include Elizabeth "Cookie" Sears, Musical Director; Aaron Moore, Acting Coach; and Celeste Hudson, Choreographer.   STAR provides high school students with employment in the arts through the Albany Summer Youth Employment Program and provides scholarships to the program with support from the Cohoes Savings Foundation. ME: THE MUSICAL will be presented Friday, August 3 at 4PM, Saturday, August 4 at 11AM and Sunday, August 5 at 6PM at Capital Repertory Theatre, 111 N. Pearl Street, Albany, NY. No reservations are necessary. Seating is on a first-come, first-served basis.  For more information about ME: THE MUSICAL and the STAR program at Capital Repertory Theatre, call Margaret Hall at (518) 462-4531 X410. ------- About CAPITAL REPERTORY THEATRE
111 NORTH PEARL STREET, ALBANY, NY 12207
Capital Repertory Theatre is the only resident professional theatre company in New York's Capital District. As members of the League of Resident Theatres (LORT), Capital Rep proudly operates within agreements with the Actors Equity Association.
###
Contact
: Thom O'Connor (518) 382-3884 X166 oconnor@proctors.org