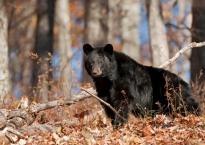 Blue Mountain Lake, N.Y.
- Join wildlife photographer, Eric Dresser, on Monday, July 23 for "Capturing Adirondack Wildlife in Pictures." The program is part of the Monday Evening Lecture series. Eric Dresser, and internationally published photographer, specializes in wildlife and landscape photography from the northeastern United States and Canada. During his presentation, Dresser will share exquisite examples of his work and talk about the strategies he uses to capture images of his wild subjects. With over 40 years of experience in the field, Eric has developed many tactics for getting close to wildlife. His love and passion for our natural world can be seen in his photographs. The presentation will be held in the Auditorium at 7:30 p.m.  The lecture will be offered at no charge to museum members; the fee for non-members is $5.00. For additional information, please visit
http://www.adirondackmuseum.org/
or call (518) 352-7311. Dressers credits include
Adirondack Life Magazine, National Wildlife Magazine, The Nature Conservancy, Birds and Blooms Magazine, NY Conservationist, Ontario Out of Doors Magazine, US Forest Service, Canadian Parks and Wilderness Society, L.L. Bean Catalogues
and many, many more. His photos have appeared in magazines and books in Germany, France, Wales and Italy. Eric is also a staff instructor for the Adirondack Photography Institute and teaches individual photo workshops on his property west of Camden, NY. Visit
http://www.nbnp.com/
to see more of Dressers work. The Adirondack Museum, accredited by the American Association of Museums, offers 65,000 square feet of exciting exhibitions housed in twenty-two modern and historic buildings. Visitors can explore how people have lived, worked, traveled, and played in the Adirondacks from the 19
th
century up to today. The museum is supported in part by public funds from the New York State Council on the Arts, a State Agency. For additional information, visit
http://www.adirondackmuseum.org/
or call (518) 352-7311.
###
Photograph by Eric Dresser
Contact
: Kate Moore, Marketing Manager (518) 352-7311, ext. 109;
kmoore@adkmuseum.org