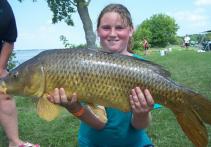 New York's Free Fishing Days are June 25-26
Tournaments, Charters and Deals for Every Angler
Albany, NY
- When it comes to fresh water fishing, New York State has it all: salmon, trout, walleye, pike, Muskie, shad and panfish. And if you're a salt water fishing enthusiast, you won't want to miss the chance to cast your line in the Long Island Sound and the Atlantic Ocean for bluefish, flounder or big game fish like yellowfin tuna, giant tuna and shark! Are you new to fishing? Do you want to try it for the first time? New York's Free Fishing Days 2011, June 25-26, make it easy, as no license is required by anyone for these two days, resident or non-resident (although all rules and regulations must be followed). Check out just some of the great fishing opportunities in New York State over the coming months!
Charters
Situated on the northeast corner of Oneida Lake in Cleveland, NY, Anglers' Bay Cottages & Marina has partnered with three separate licensed captains/guides, along with a caterer, to offer guided fishing charters of Oneida Lake daily from May 7 - October 31.  Rates start at $125 for a day-long charter.  For more information visit
http://www.fishoneida.com/
, email
fishoneida@gmail.com
or call (315) 675-3662.  Accommodations and catering options are also available. Sodus Point Lodge in Sodus Point wants you to fish with the pros and experience the rush of landing a 35-pound king salmon. Lake Ontario is rich with cohoe, brown trout, steelhead, and rainbow trout, adding up to some of the best fishing you'll ever experience. Your charter boat has all the latest and greatest technology to zero in on your trophy catch. Their charter package includes lodging, a full or half day of fishing, all fishing equipment, a cleaning station, full breakfast and packed lunch. Contact the Sodus Point Lodge for all details and packages at (315) 553-2056 or email
soduspointlodge@rochester.rr.com
.
Long Island Fishing Getaway
Get away to Long Island and enjoy fishing at the Montauk Yacht Club Resort & Marina! Come aboard the Masterpiece Charter Boat at the marina for a fun-filled half day of Montauk's world famous saltwater fishing. Through November, The Masterpiece Fishing Charters offers inshore and offshore fishing adventures that are fun for experienced fishermen or families out for their first fishing experiences. The package includes a three-hour fishing trip for up to six people and overnight deluxe hotel accommodations based on availability. For more information visit
http://www.montaukyachtclub.com/
or call (631) 668-7710. (Blackout dates may apply.)
Angels & Anglers His & Her Package
From Seneca County's Central Finger Lakes Getaways & Holidays comes the
Angels & Anglers
His & Her Package, a fun- and activity-packed adventure starting at $400 per couple. For the ladies, it's a great opportunity to shop, spa and relax. You'll receive an in-room massage and VIP Coupon book to Waterloo Premium Outlets, complete with lunch. For the guys it's a chance to grab your fishing poles and head out on the water, either by charter boat or kayak, for some great angling. When you're done fishing, you'll enjoy a catered lunch featuring your catch, and if the big one gets away, a substitute picnic lunch will be provided. In the evening, everyone will meet up for a relaxing lakeside dinner together to swap fish - and shopping - tales. For more information please visit
http://www.fingerlakescentral.com/
or call (315) 568-2906.
School of Fish
In Washington County, the Georgi Musem in Shushan is hosting a Women's Fly Fishing Weekend, June 10-12, sponsored by Ted Berndt's Battenkill Guide Service. Lessons will be given 8 a.m. - 4 p.m. on Saturday and 8 a.m. to noon on Sunday, with students free to fish on their own afterward. Skills taught include casting techniques, essential knots, choosing gear and tackle, stream entomology, proper fly selection, how to "read" water, and how to play, land and safely release fish. Ted's is partnering with the Georgi Museum and Battenkill Valley Outdoors to provide two nights' accommodations at Long Lodge in Cambridge, NY, including shuttle transportation. The cost for lodging is $225 per person, double occupancy; the cost for the fly fishing school is $160 per person. A New York State fishing license is required. For more information email
ted@battenkillguides.com
or call (518) 321-4033.
http://www.battenkillvalleyoutdoors.com/Finished%20Pages/Accomodations.htm
http://www.thegeorgi.com/
This summer, Willow Pond Aqua Farm in Canandaigua is offering a variety of fishing programs, including fly fishing and spin fishing. Willow Pond has one- and two-day classes for individuals, families, groups of women and large groups. The ponds at the facility are full of fish and offer a beautiful setting to learn the sport. If you choose the spin fishing class, you'll be introduced to assembling fishing tackle, basic knot tying and casting techniques. You'll also get a brief overview on how to safely catch and release fish. If fly fishing is more your thing, you'll learn about the equipment used and how to set it up, basic knot tying, stripping and shooting the line and different casting techniques. You'll also learn ways to identify what the fish are eating. Prices and dates can be found at
http://www.gofishny.com/
.
The Return of the Two-Fly Challenge
The 12th Annual Ausable River Two-Fly challenge returns to Wilmington in the Adirondacks from May 20-21. Anglers are invited to cast a line into the famed West Branch of the Ausable River for two days of competition in which participants catch-and-release using just two flies. The Two-Fly challenge begins on a Friday morning with registration and a day of fishing.  Friday evening features a "get together" fly tying demonstration, drinks and snacks. Saturday, participants spend up to 10 hours angling on the river and follow up with  dinner, guest speaker, award ceremony and silent raffle. For more information visit
http://www.whitefaceregion.com/
.
Something to Carp About
Wild Carp Week
is a series of international fishing tournaments taking place May 14-21 in Baldwinsville and Liverpool. It's five carp angling tournaments in seven days! The featured event, the Wild Carp Classic, showcases some of the world's best carp anglers competing for up to $30,000 in prizes.  Throughout the week, Wild Carp Companies offers family entertainment that is free and open to the public. For more information visit
http://www.wildcarpcompanies.com/
. August 18-20 the 9th Annual
St. Lawrence International Junior Carp Tournament
takes place on the St. Lawrence River from Massena west to Ogdensburg. The nation's largest junior carp fishing contest lures kids ages 11 to 18 and their families to the river for competition, fishing school, and fun. More than 100 two-person teams from the United States, England, France, Holland, Germany, Russia, Poland, the Czech Republic, Hungary, Canada, South Africa, Romania, Japan, Ukraine and Bosnia are expected for the
Carp Angling World Championship
, September 24-30, in Waddington on the St. Lawrence River. For more information on these events, visit the St. Lawrence County Chamber of Commerce's web site at
http://www.northcountryguide.com/
.
World Class Fishing in St. Lawrence County
From the shores of the St. Lawrence River to famous Black Lake and beyond, St. Lawrence County offers "a greater variety of true trophy angling than any place on earth," according Don Meissner, host of "Rod & Reel Streamside" on PBS. Upcoming spring and summer fishing events include the
Wounded Warriors Fishing Tournament
, June 4 in Ogdensburg, in which wounded soldiers from nearby Fort Drum and their families will spend a day on the river as the soldiers engage in competitive fishing. On July 24, check out the
New York Bass Angler Sportsman Society (B.A.S.S.) bass fishing tournament
on the St. Lawrence River at Massena. This major qualifying tournament for the annual Bassmaster Classic is being held for the first time in the area and is expected to draw anglers from across the Northeast and Canada.
Upcoming Fishing Events
May
June
July
August
September
###
About New York State
New York State features 11 beautiful vacation regions.  New York's attractions span from landmarks such as Niagara Falls, to the wine trails of Hudson Valley and treasures like the Baseball Hall of Fame in Cooperstown.  Whether it's wide-ranging outdoor activities for the whole family like fishing, hiking and boating, culinary wonders and farm-to-table fresh foods, or the rich history and culture of one of the 13 original colonies, New York State offers diverse activities for all travelers. For more information visit
http://www.iloveny.com/
. Media can find press releases and more at
http://www.thebeat.iloveny.com/
.
Documents and/or Photos available for this release: Hanna Hawkins holds a carp she caught during the St. Lawrence International Junior Carp Tournament, the nation's largest junior carp fishing contest, which takes place on the St. Lawrence River from Massena west to Ogdensburg. For a perfect getaway, experience charter boat fishing on Long Island.