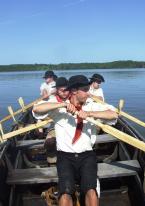 Ticonderoga, N.Y.
- Fort Ticonderoga's "Fort Fever Series" returns this winter with monthly programs January through April 2014. Programs take place on Sunday afternoons at 2:00 in the Deborah Clarke Mars Education Center. The cost for each program is $10 per person and will be collected at the door; free for members of the Friends of Fort Ticonderoga.
January 12th, "Amazing Things! Highlights from Fort Ticonderoga's Collections"-
Spend an afternoon with Curator of Collections Chris Fox examining some of the rare and important manuscripts, books, and objects in the Fort's extensive collections. Highlights include the chance to get a close look at the autographs of many of the famous people who are connected with the Fort's history, objects associated with important people from the French & Indian War and American Revolution, and rare weapons from America's colonial period.
February 2nd, "Snowshoe Hike"-
Explore a portion of the Fort's grounds in winter! Director of Horticulture Heidi Karkoski will lead a snowshoe hike on the new battlefield trail through the winter woods. Provide your own snowshoes.
March 16th, "1776 at Ticonderoga"-
Director of Interpretation Stuart Lilie provides a sneak peek at Fort Ticonderoga's 2014 interpretive theme, sharing research into the lives of the Pennsylvania troops at Ticonderoga in 1776.
April 13th, "An Army Rows and Marches on its Stomach"-
Explore how diaries, military manuals, and archaeological remains are being used to reconstruct how American soldiers cooked and ate at Ticonderoga in 1776 with Military Programs Supervisor Cameron Green. The "Fort Fever Series" is just one of several programs taking place at Fort Ticonderoga this winter. Clothing and Accoutrement Workshops are offered one weekend a month January-April. Fort Ticonderoga presents Living History events on January 11, February 15& 16, and March 15 & 16. The Fourth Annual "Material Matters: It's in the Details" seminar takes place January 25
& 26, while the Third Annual Garden & Landscape Symposium will be held on April 12
.
You can learn more about all of these programs by visiting
http://www.fortticonderoga.org/
and selecting the "Explore and Learn" tab and click on "Life Long Learning." Some programs require advance registration.
About Fort Ticonderoga: America's FortTM
The Fort Ticonderoga Association is an independent not-for-profit educational organization which serves its mission to ensure that present and future generations learn from the struggles, sacrifices, and victories that shaped the nations of North America and changed world history. It serves this mission by preserving and enhancing its historic structures, collections, gardens and landscapes; and educating the public as it learns about the history of Fort Ticonderoga. Welcoming visitors since 1909, it preserves North America's largest 18
th
-century artillery collection, 2000 acres of historic landscape on Lake Champlain, and Carillon Battlefield, and the largest series of untouched 18th-century earthworks surviving in America.  Fort Ticonderoga engages more than 70,000 visitors each year, and annually reaches more than 5,000 people in outreach programs.  Fort Ticonderoga offers programs, historic interpretation, tours, demonstrations, and museum exhibitions throughout the year and is open for daily visitation May through October. Fort Ticonderoga is accredited by the American Association of Museums. Visit
http://www.fortticonderoga.org/
 for a full list of ongoing programs or call 518-585-2821. Fort Ticonderoga is located at 100 Fort Ti Road, Ticonderoga, New York.
Photo:
Members of a bateau crew on Lake Champlain. "An Army Rows and Marches on its Stomach" is one of four "Fort Fever Series" programs at Fort Ticonderoga January through April 2014.
Contact:
               Beth Hill 518-585- 2821
bhill@fort-ticonderoga.org