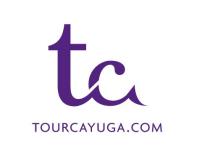 County Rebounds from 2009
Cayuga County, N.Y.
- The recession that kicked off in 2008 and continued through 2009 impacted just about every industry in the United States including travel and tourism.  The Cayuga County Office of Tourism releases today their
2010 Annual Report on Tourism
that details the programs the office instituted to combat the recession and bring tourism activity back up to 2008 levels. "I am happy to report that tourism in Cayuga County improved considerably in 2010 with occupancy, average daily rate, and revenue per available room returning to 2008 levels," said Meg Vanek, executive director of the Cayuga County Office of Tourism.
A quick glance at Cayuga County's highlights per the report:
o   23,489 inquiries were generated from the advertising campaign o   94 editorial placements were secured in major publcations such as the
Ottawa Citizen
,
The Telegraph (UK),
and
Budget Travel
o   Visitors spent $79.22 million dollars in Cayuga County on lodging, recreation, food & beverage, retail & service stations, transportation and second homes o   Tourism directly employs 1,207 people in Cayuga County For a complete report, stop by the Cayuga County Office of Tourism, 131 Genesee Street, Auburn.  The Office is open Monday- Friday, 9 a.m. - 5 p.m.
###
About the Cayuga County Office of Tourism
The mission of the Cayuga County Office of Tourism is to promote, support, and increase tourism and thereby stimulate economic growth and the quality of life for area residents.
Editorial Contact:
Meg Vanek Executive Director Cayuga County Office of Tourism 131 Genesee Street Auburn, NY  13021 (315) 255-1658/800-499-9615 e-mail: 
meg@tourcayuga.com