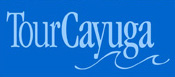 Cayuga County, New York (April 8, 2009)
-- Cayuga County Tourism has added a new feature to their web site,
http://www.tourcayuga.com/
, to help groups plan their trips online.  Whether the group is 10 people or 100, the new 'Groups' feature on the www.tourcayuga.com site is a handy tool for planning a reunion, conference, destination wedding or bus tour.
Meetings & Conferences
Cayuga County has long been known as a great vacation spot, but it is also a perfect meeting place with top-notch meeting facilities and a convenient location in the heart of Finger Lakes wine country.  We offer a range of traditional conference facilities as well as a variety of distinctive venues such as historic sites, theaters and lakeside retreats.  Our natural beauty and casual atmosphere away from the hustle and bustle of the city make the perfect atmosphere for productive work sessions.  Visit www.tourcayuga.com/groups to find information on venues and suppliers when planning your next small meeting or annual conference.  Information on public transportation, maps, and directions is also at your fingertips.
Group Tours
Groups find Cayuga County's convenient location a perfect stop along the way to or from Niagara Falls, the Thousand Islands and New York City.  We offer dazzling lakes, award-winning wineries, historic homes and museums, professional theatre productions and year-round performing arts productions. Cayuga County is also a perfect 'hub' to the rest of the Finger Lakes Region with outlet shopping, the Cities of Ithaca and Syracuse, Watkins Glen and the Corning Museum of Glass all easy day trips.  We know planning the trip can be the toughest part, so we have provided information on restaurants, hotels, sample itineraries, group-friendly activities and attractions as well as directions on www.tourcayuga.com/groups.
Weddings & Social Gatherings
Cayuga County is very popular with small groups of family and friends coming for reunions, weddings and other social gatherings.  Our award-winning wineries, spectacular scenery and wonderful attractions are sure to surprise and delight.  Everything a group wants from a day on the greens to fantastic restaurants, professional theater, museums and live music are here to make any social gathering a big success.  Visit www.tourcayuga.com/groups to help you find the perfect venue for your event as well as bakeries, caterers, DJ's and other suppliers to make your event a memorable one.
http://www.tourcayuga.com/groups/index.php
Consumers seeking more information or for personal assistance, please call 800-499-9615.
Editorial Contact:
Meg Vanek Executive Director Cayuga County Office of Tourism 131 Genesee Street Auburn, NY  13021 (315) 255-1658 e-mail: 
meg@tourcayuga.com