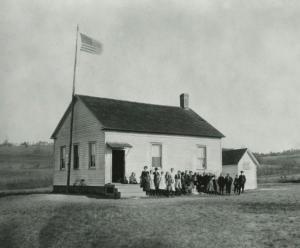 Columbia County, N.Y. (Sept. 24, 2020) – The Columbia County Historical Society has added two more road trips to its ongoing 'Drive Through History' series. The self-guided driving itineraries are free to download at www.cchsny.org/drive-through-history.html
'Good Apples' explores the role of apple farming in Columbia County's agricultural history, visiting seven heritage orchards and other points of interest. Stops include Vosburgh Orchards, which has been in the Vosburgh family since 1839, and Philip Orchards, one of the oldest continually operating family farms in New York State. Visitors may buy or pick their own apples at each stop.
'Schoolhouse Stories' revisits the not-so-distant era of one-room schoolhouses in Columbia County. From the 1800s through the early 1900s, more than 100 district schools served the County's schoolchildren, providing a tight-knit learning environment that many families preferred to centralized schools, which replaced single-room schools in the mid-20th century. Visitors can see nine former one-room schoolhouses, including the c.1850 Ichabod Crane Schoolhouse and the c.1796 Riders Mills Schoolhouse.
"As apple season nears its peak and students are--one way or another--heading back to school during historic circumstances, these newest road trips provide historical context for two seasonal and iconic institutions," said CCHS Executive Director Lori Yarotsky.
'Good Apples' and 'Schoolhouse Stories' join the previous itineraries launched by CCHS:
'Legends & Folklore'
'Sacred Spaces, Part I'
'Artifacts of Industry'
'Patriots & Patroons: Politics in Columbia County'
The new road trips come on the heels of the Columbia County Historical Society's announcement of its 2020 First Columbians benefit, which will not be held in person this year. The "un-gala," celebrating 200 Years of the James Vanderpoel House & Federal Style, provides pandemic-proof ways to engage with the area's culture and heritage, including an exclusive Drive Through History printed treasure map of Federal-style structures in Columbia County.
"While current circumstances have caused a change in the way we approach our programming, we can still find ways to celebrate history and preservation in Columbia County," Yarotsky said.
For further information, please contact:
Carrie Rodgers, Communications@cchsny.org
MORE INFO:
www.cchsny.org/drive-through-history.html
###
Image: Historical photo of the c.1850 Ichabod Crane Schoolhouse, a stop on the 'Schoolhouse Stories' Drive Through History road trip. Photo from the Columbia County Historical Society permanent collection.