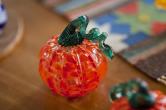 Corning, N.Y.
- Choose from thousands of glass pumpkins, apples and more at The Corning Museum of Glass Farmers Market, October 12-14, 2013. The event takes place 9:00 a.m. - 5:00 p.m. at the entrance to the Museum. On Saturday, October 12, the Museum's GlassMarket will also feature Personal  appearances by Ricky Bernstein from Penrose Glass Jewelry, and Jena Lane Blair from Fenton Art Glass. A trunk show of Venetian beaded jewelry from Marco Polo Designers
TM
will also be on view, all weekend long. The Glass Farmers Market is part of three-month celebration of harvest at the Museum. Visitors can see the world's largest blown glass pumpkin and make their own glass pumpkins through December 1 (All ages, $29 per person for the 40-minute experience). For details, visit
www.cmog.org/glassharvest
.
The Corning Museum of Glass
The Corning Museum of Glass is the foremost authority on the art, history, science, and design of glass. It is home to the world's most important collection of glass, including the finest examples of glassmaking spanning 3,500 years. Live glassblowing demonstrations (offered at the Museum, on the road, and at sea on Celebrity Cruises) bring the material to life. Daily Make Your Own Glass experiences at the Museum enable visitors to create work in a state-of-the-art glassmaking studio. The campus in Corning includes a year-round glassmaking school, The Studio, and the Rakow Research Library, the world's preeminent collection of materials on the art and history of glass. Located in the heart of the Finger Lakes Wine Country of New York State, the Museum is open daily, year-round. Kids and teens, 19 and under, receive free admission.
###
Contact information:
Yvette Sterbenk, Corning Museum of Glass, One Museum Way, Corning, NY 14830