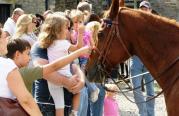 Ticonderoga, N.Y.
- Join Fort Ticonderoga to celebrate the sights, sounds, and tastes of fall on Saturday, September 28. Bring the whole family to the Heritage, Harvest & Horse Festival for a full day of autumn fun set in the midst of the King's Garden's heirloom apple trees and the beautiful Adirondack landscape! Experience the power and thunder of hooves through demonstrations of equestrian sports; take part in family-fun activities including horse drawn wagon rides and sack races; and explore the splendor of the King's Garden at the harvest market. Admission to the Heritage, Harvest & Horse Festival is included with Fort Ticonderoga's general admission ticket.  Fort Ticonderoga is open from 9:30 am until 5 pm daily. For a complete event schedule visit
http://www.fortticonderoga.org/
or call 518-585-2821.  
Harvest Market
"Set in the King's Garden's floral scenery will be a lively and colorful harvest market, plus games and activities for all," said Heidi Karkoski, Fort Ticonderoga's Director of Horticulture. "Get ready for fall culinary and decorating desires with an array of fruits, vegetables, pumpkins, gourds, jams & jellies, and other fall favorites."
Horticulture Program
Guests to the Heritage, Harvest, and Horse Festival will hear expert advice from well-known herbalist and educator, Nancy Scarzello, who will present a thirty-minute program offered at 11am and 1pm featuring the best ways to prepare roots, leaves and flowers for drying, freezing, and preserving for teas and seasonings all winter.
Equine Heritage at Fort Ticonderoga
"The Heritage, Harvest, and Horse Festival will also feature demonstrations of equestrian sports and working horses alike," said Stuart Lilie, Fort Ticonderoga's Director of Interpretation. "From farm horses to cavalry mounts, meet some of these beautiful four-legged animals as you tour around the Fort's garrison grounds and gardens."
"Localvore" Food, Live Music, Pony Rides and more!
Festival featured activities include: live music from 12pm-4pm; delicious "localvore" food from Essex County's DaCy Meadow Farm; kids' heritage games and sack races; pony rides; petting zoo; butter making demonstrations; horse-drawn wagon rides; harvest market featuring locally grown and made products including artisanal cheese, hand-woven baskets, perennials and mums, produce, maple syrup, honey, apple products and more!
Heroic Maze: A Corn Maze Adventure!
The day will not be complete without a visit to Fort Ticonderoga's highly acclaimed
Heroic Maze: A Corn Maze Adventure
where visitors explore the six acre corn maze designed in the shape of the Fort and find their way through the maze by selecting the correct answers to clues connected to the Fort's history!
FORT TICONDEROGA
America's Fort
TM
Located on Lake Champlain in the beautiful 6 million acre Adirondack Park, Fort Ticonderoga is a not-for-profit historic site and museum that ensures that present and future generations learn from the struggles, sacrifices, and victories that shaped the nations of North America and changed world history. Serving the public since 1909, Fort Ticonderoga engages more than 70,000 guests annually and is dedicated to the preservation and interpretation of Fort Ticonderoga's history.  Accredited by the American Association of Museums, Fort Ticonderoga offers programs, historic interpretation, tours, demonstrations, and exhibits throughout the year and is open for daily visitation May 17 through October 20, 2013. The 2013 season features the Fort's newest exhibit
"It would make a heart of stone melt" Sickness, Injury, and Medicine at Fort Ticonderoga
which explores early medical theory, practice, and experience as each relates to the armies that served at Fort Ticonderoga in the 18
th
century.  Admission price is $17.50 for adults, $14.00 for seniors (62 years and older), $8 children 5-12 years old, and children 4 years and under are free. Friends of Fort Ticonderoga also enjoy free admission. Visit
www.FortTiconderoga.org
for a full list of ongoing programs or call 518-585-2821. Fort Ticonderoga is located at 100 Fort Ti Road, Ticonderoga, New York.
America's Fort is a registered trademark of the Fort Ticonderoga Association.
Photo: Fort Ticonderoga will present Heritage, Harvest, & Horse Festival, September 28!
###
Contact:
Beth Hill 518-585-2821
bhill@fort-ticonderoga.org