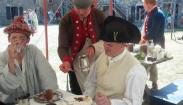 October 13 Living History Event Highlights Chocolate in the 18th-Century Military
Ticonderoga, N.Y.
- "As per the May 11, 1775 Connecticut Assembly Resolves Connecticut soldiers serving at Fort Ticonderoga were to receive as part of their rations, 'Milk, Molasses, Candles, Soap, Vinegar, Coffee, Chocolate, Sugar, Tobacco, Onions and Vegetables' in season," said Stuart Lilie, Fort Ticonderoga's Director of Interpretation. "Yes, Chocolate!  And these rations made it all the way to Ticonderoga, and became a bone of contention with the New York soldiers who were not nearly as well provisioned that year." On Saturday, October 13 meet the Connecticut soldiers posted in the fall of 1775 at Fort Ticonderoga's upcoming living history event, and discover how chocolate was a simple luxury enjoyed by enlisted soldiers as well as officers.  Step into the enlisted barracks and talk with soldiers about their sweet chocolate rations enjoyed in various forms to break the monotony of their usual stews. Visit the officer's mess, where hot drinking chocolate makes the perfect final course to an early breakfast or late day supper.  Rodney Snyder, Chocolate History Research Director for Mars Chocolate NA, will also be on hand to share the importance of chocolate in American history. Free samples of hot chocolate featuring American Heritage Chocolate, an authentic colonial chocolate recipe made only from ingredients available in the 18
th
century made by Mars Chocolate, will be available throughout the day.  Admission to this living history event is included with Fort Ticonderoga's general admission ticket.  Fort Ticonderoga is open from 9:30 am until 5 pm daily.  For more information on the event visit
http://www.fortticonderoga.org/
or call 518-585-2821. This living history event is part of Fort Ticonderoga's "Chocolate Covered History" Symposium, October 12-13.  Visitors attending the Fort on Saturday, October 13, can purchase individual tickets for symposium tastings to explore the unique flavor of 18
th
century chocolate coupled with flavors we commonly enjoy today!  Tastings include "Wines & Chocolate: Perfect Pairing," "Baking with American Heritage Chocolate," and "A Short Course in the New Trend in American Whiskey with Tuthilltown."  Tickets for the tastings are $20 each plus the cost of general admission.  To learn more visit
http://www.fortticonderoga.org/
or call 518-585-2821. "Chocolate Covered History" is presented in partnership with The Sagamore Resort in Bolton Landing, NY and American Heritage Chocolate, and Fort Ticonderoga.  A variety of symposium event pricing is available including symposium only options as well as package pricing. Guests attending "Chocolate Covered History" will enjoy special hotel rates at The Sagamore.  The historic resort commands a stunning view of Lake George, and will be location for the Friday night reception and Saturday evening gala.  The Sagamore will provide transportation to the symposium at Fort Ticonderoga on Saturday. For room reservations call The Sagamore at 1-866-385-6221 or 518-644-9400 and ask for the Chocolate Covered History Rates-Fort Ticonderoga (reference code 51U4PO).  A limited number of rooms are reserved.  Early registration is suggested. Additional "Chocolate Covered History" sponsors include Amtrak, William Grant & Sons, Banfi Vintners, Veuve Clicquot Champagne, and Tuthilltown Spirits.
FORT TICONDEROGA
America's Fort
Located on Lake Champlain in the beautiful 6 million acre Adirondack Park, Fort Ticonderoga is a not-for-profit historic site and museum that ensures that present and future generations learn from the struggles, sacrifices, and victories that shaped the nations of North America and changed world history. Serving the public since 1909, Fort Ticonderoga engages more than 70,000 visitors annually and is dedicated to the preservation and interpretation of Fort Ticonderoga's history.  Accredited by the American Association of Museums, Fort Ticonderoga offers programs, historic interpretation, tours, demonstrations, and exhibits throughout the year and is open for daily visitation May 18 through October 18. The 2012 season features the Fort's newest exhibit
Bullets & Blades: The Weapons of America's Colonial Wars and Revolution
which highlights over 150 of the museum's most important weapons and is a comprehensive and expanded reinterpretation of its world renowned historic arms collection!  Visit
http://www.fortticonderoga.org/
for a full list of ongoing programs or call 518-585-2821. Funding for the 2012 season is provided in part by Amtrak.  Visit
http://www.fortticonderoga.org/visit/directions
for a special 2 for 1 Amtrak offer! Fort Ticonderoga is located at 100 Fort Ti Road, Ticonderoga, New York.
                                                                                                                        #          #          #
Photo: Visit Fort Ticonderoga October 13 and celebrate history with chocolate! Photo copyright Fort Ticonderoga.