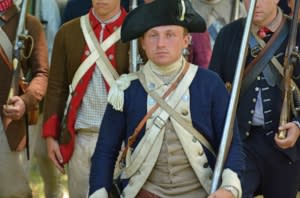 Ticonderoga, N.Y. – Join Fort Ticonderoga July 1-4 for a four-day celebration this Independence Day weekend. Celebrate freedom by exploring the year 1777 when America was consumed in the labor of liberty. Participate in the fight for freedom when the Northern Department of the Continental Army fought to keep the great fortress of Ticonderoga from falling into British control. Take the experience onto the water aboard the recreated 1920s tour boat Carillon. Dig into the centuries of military history during guided tours in the historic gardens. Thrill at the power of artillery during cannon demonstrations and march to the beat of the Fife and Drum Corps as they perform patriotic music Saturday through Monday. For the full event schedule, and to learn more about the event, visit http://www.fortticonderoga.org/events/fort-events/independence-day-weekend-1/detail  or call 518-585-2821.
"Step into a hive of military activity as you meet the soldiers working feverishly to fortify the great camp Ticonderoga and build outer military defenses," said Beth Hill, Fort Ticonderoga President and CEO. "Walk along teamsters and oxen as they help in the work. Visit a trades shop to discover how tradesmen known as artificers worked to resupply soldiers with clothing, shoes, and equipment. Observe rations cooked, lumber cut, and the army in motion prepared to hold their ground for freedom. Bring your family along to experience an unforgettable weekend."
Additional activities during this special Independence Day weekend will include daily soldier's life programs, reconstruction of earthworks, musket firing demonstrations, Mount Defiance tours, and museum exhibitions.
About Ticonderoga on Independence Day 1777:
1776 is famous for the signing of the Declaration, but what was happening at Ticonderoga in July of 1777? The scene was uncertainty, trepidation, and the expectation of a British attack.  By July 2nd, the siege of Ticonderoga was underway. British and Brunswick soldiers began to surround the great camp and build lines of attack, commencing the bombardment.  On July 5, British General Burgoyne captured Fort Ticonderoga forcing the American retreat.
Fort Ticonderoga: America's Fort™
The Fort Ticonderoga Association is an independent nonprofit educational organization and museum, which serves its mission to ensure that present and future generations learn from the struggles, sacrifices, and victories that shaped the nations of North America and changed world history. It serves this mission by preserving and enhancing its historic structures, collections, gardens and landscapes; and educating the public as it learns about the history of Fort Ticonderoga. Welcoming visitors since 1909, it preserves North America's largest 18th-century artillery collection, 2000 acres of historic landscape on Lake Champlain, and Carillon Battlefield, and the largest series of untouched 18th-century earthworks surviving in America.  Fort Ticonderoga engages more than 75,000 visitors each year and offers programs, historic interpretation, boat cruises, tours, demonstrations, and exhibits throughout the year and is open for daily visitation May through October. Fort Ticonderoga is accredited by the American Association of Museums and pursues its vision to be the premier cultural destination in North America. Visit www.FortTiconderoga.org for a full list of ongoing programs or call 518-585-2821. Fort Ticonderoga is located at 102 Fort Ti Road, Ticonderoga, New York.
America's Fort is a registered trademark of the Fort Ticonderoga Association.
Photo: Celebrate Independence at Fort Ticonderoga – America's Fort™! Photo Credit Fort Ticonderoga.
Contact:
Beth Hill
518-585- 2821