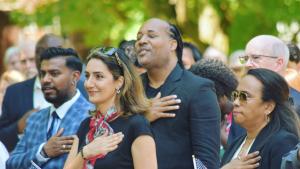 Mumford, N.Y. – Genesee Country Village & Museum welcomes visitors to kick off the summer season with the living history museum's annual Independence Day Celebration on Tuesday, July 4, from 10 a.m. – 4 p.m. With a 19th-century-style parade, a moving Naturalization Ceremony, musical performances, pie eating contest, and more – there's no better place to celebrate the birth of our nation.
Plus, thanks to support from Monroe County, all kids 12 and under will receive free admission. Visitors to the Independence Day Celebration will enjoy live musical performances, historic games on the Village Square, special food and drink offerings in the Depot Restaurant, and more. Crowd favorites include the 19th-century-style parade that makes its way around the Historic Village, pie eating contest, tug-of-war competition, and so much more. Visitors will also have the opportunity to hear a recitation of "The Declaration of Independence" and "What to the Slave is the Fourth of July?" by David Shakes of the North Star Players.
Returning this year is the Naturalization Ceremony, during which visitors will celebrate along with individuals from a number of countries all over the world as they are sworn in as new American citizens by the Honorable Judge Mark W. Pedersen in the unique setting of the Museum's Historic Village. The Naturalization Ceremony will begin on the Village Square at 11 a.m. This event is sponsored by M&T Bank. Tickets are on sale now at  https://www.gcv.org/event/independence-day-celebration/.
WHEN:           Tuesday, July 4, 10 a.m. – 4 p.m.                         
                          WHERE:        Genesee Country Village & Museum, 1410 Flint Hill Road, Mumford, NY 14511
                           HOW:             Tickets must be purchased online in advance at https://www.gcv.org/event/independence-day-celebration/ or at the door for a small additional fee. Tickets are $23 for adults, $20 for seniors (62+), $20 for students (13 – 18), and youth (12 and under) are free. Visitors are encouraged to buy tickets online and save – there will be a small additional fee for tickets purchased at the door. Museum Members can attend Independence Day for free.
ABOUT GENESEE COUNTRY VILLAGE & MUSEUM
Genesee Country Village & Museum, the largest living history museum in New York State, and the third largest in the nation, encompassing the Historic Village, Nature Center, and John L. Wehle Gallery.
Photo 1: Don't miss a family favorite – the annual Independence Day Celebration at Genesee Country Village & Museum on Tuesday, July 4!                    
###