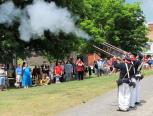 July 4, 10:00 a.m.-4:00 p.m.
Cooperstown, N.Y.
-
The Farmers' Museum in Cooperstown marks Independence Day on July 4 with the sounds of 1776. Hear the muskets blast with our Militia Muster and hear history happen with a reading of the Declaration of Independence on the historic village green at 1:00 pm.  Enjoy traditional 19th century music performed by Katie Boardman throughout the day. Ongoing demonstrations include blacksmithing, printing, open hearth cooking, and more.  As always, you can visit the Cardiff Giant, ride the Empire State Carousel, and visit the baby animals at the Children's Barnyard.  Special highlight activities take place at select times.  Visit
www.FarmersMuseum.org
for more information. The museum is open July 4 and every day from 10 am - 5 pm. Admission: Adults and juniors (13-64): $12.00; seniors (65+): $10.50; youth (7-12): $6.00; children (6 and under): Free. NYSHA members are always admitted free, as are active-duty and retired career military.  Through Labor Day 2013, active-duty military and up to five family members are admitted free, through the Blue Star Museum program.
###
For more information or images, please contact:
Todd Kenyon, Public Relations New York State Historical Association Fenimore Art Museum/The Farmers' Museum Phone: (607) 547-1472 / E-mail:
t.kenyon@nysha.org
About The Farmers' Museum
As one of the oldest rural life museums in the country, The Farmers' Museum in Cooperstown, New York, provides visitors with a unique opportunity to experience 19th-century rural and village life first-hand through authentic demonstrations and interpretative exhibits. The museum, founded in 1943, comprises